How to Install a Nail-Fin Window Over Housewrap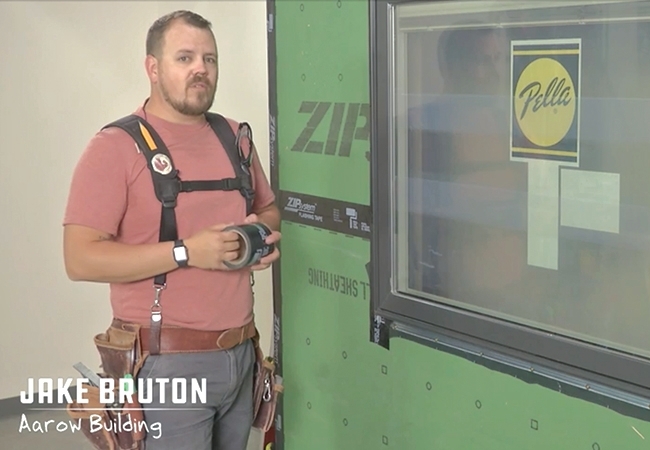 Shop Class Video Series Detailing Installation
Take a step-by-step look at how to install nail-fin windows in a range of wall systems.
---
Installing Nail-Fin Windows in Any Wall System
Installing a Nail-Fin Window Over Zip System Sheathing Part 1
Today we're gonna be installing a flange window and a wall that already has zip system sheeting installed. The goal here is to connect the WRB of our wall to the WRB of our window to make one continuous environmental separator. The first step in that separation is we're gonna prep the sill pan below the window. To start we're gonna babble the sill. There's two different ways that we can do that. One we can use a piece of cedar beveled siding like we're gonna do here creating a positive slope to the outside. Two we could also do this in rough framing so we could add a 5 degree pitch to the outside in the rough framing sill. That will give us a positive slope to the outside and the event that we ever have Moisture. We'll take just a couple roofing nails just something to just something to tack it into place and hold it for the moment. Now that we have this sill installed the next thing is going to be our stretch tape. For me that starts with a centerline layout and layouts up each jamb to the point that I need that tape to go. That way I don't make any mistakes on placing my tape. So I'll mark Center on the sill and then I'll mark six inches up each side. The reason I'm going six inches up each side is that gives me enough to turn the corner and it gives me a good point of reference where I'm not trying to push just a small piece of tape around the corner. I want it up high enough that I get good adhesion. Okay let's talk still pan flashing we can do this in a couple different ways the first way our preferred method is will use a stretchable tape that will flash from the sill out and onto the wall. It also will allow us to turn the corner up both sides so that we're able to go from our layout line down around and back up to our rate layout line in one piece. If you don't have the stretch tape you can go with a straight tape a straight flashing tape and you can achieve the same thing but this time you're gonna be using more pieces. Let me show you how that works. First I'm going to cut a bowtie shape piece of the flashing tape and this will be our piece that actually bridge that connection from our sill to our wall. You can notice here that I'm using the hueber family of products. Whatever manufacturer you're working with my recommendation is stick with one manufacturer that way you have one rep or one warranty to deal with if you ever have an issue. You won't run into well they're tape isn't designed to work with our system or anything of the sort. So there's our first step we're gonna flash the pan. Second we're gonna cut a V or a triangle out of both sides of this six-inch piece and then we're able to apply this so that when we turn the corner we're getting rid of a lot of that material and we've now taken care of you'll see after I put this last vertical piece on we've taken care of what would have been a pinhole gap. And now we're able to go vertically. We'll make one cut back this direction fold in now that we have these three pieces of tape in place we're managing the water at our edge. We want to take one more run of the tape in the back to protect that still as far back as we can and then the whole system will get rolled in place this is a pressure-sensitive adhesive and we need that pressure to make it adhere to our substrate. Now we're going to install my preferred method the stretch tape. We have that layout line on the center here we also have a centerline layout on our tape that centerline means that we'll end up with the same excess or the same amount after we try to turn the corners. So I like to peel the tape one side at a time. This can be a little unwieldy to do by yourself. On a larger window you certainly wouldn't try it by yourself. I'll peel this tape back we'll peel all the way down trying to keep it from sticking to itself or anything else. So now when we open up we're going to start on that centerline and we're going to start most of the way back in the in the opening and it gives us the ability to lay at each direction. Tack it temporarily over there work our way back this direction before I really make that turn. I like to take my speed square push it right into the corner so that I know that I don't have a big rounded corner. I'll push up once where to this point. I'm able to turn starting at the corner and work my way out and you may see it start to try to return to its original position but once you give it a little bit of pressure it'll stay where you want it and all we're looking for is to shed that water from the sill out and down. So same thing in this corner. I'll take my speed square, I'll create that nice square corner, I'll push it the rest of the way vertically and then starting at the corner and working my way back again I'm gonna push everything out. Once we have this tape down and where we want it we're gonna start by rolling that pressure-sensitive tape. We'll actually wet to the surface once we have rolled the entire system. Now that our sill is installed and we've rolled it in place we're able to make a transition and work on the vertical. The vertical seam or the vertical connection from our WRB on our wall we're gonna push to the inside and connect to our rough framing. That's going to prevent any error water moving in between the connection of these two things and for that we're gonna use the seam tape. On the vertical we're still gonna overlap everything below it we're not worried about the horizontal seam that comes in here. We will be concerned with any seams on the head but we'll get we'll cover that when we get there. So to start out with I'm gonna put some layout marks because I like to work cleanly. So I'm gonna push a measurement of two inches out. The tape is the tapes three and three quarters wide. I'm also going to add a small reference mark at the top as a point for when I start this tape and that run to come down. I don't want the tape to go beyond that two inch mark and we're gonna continue and Mark both sides. Now we're ready for the tape. I won't pre-cut this because it doesn't have a backing on it. I also am a really big fan of making sure that I complete each step before I move on. So I'll get in the habit of rolling each piece of tape before I move on to the next one. Small slice here to fold in a small slice at the top to fold in. I like to press everything in place with my hand first because if you don't the tape could actually shift a little. I'll start in the middle and work my way out. It's not a major concern if the stretch tape or your sill pan tape protrudes past the the sides because they're still overlapping the correct direction. Fold that tape in everything will get some by hand pressure to make sure that it's seated in the place that I want it before I roll it. Then again everything gets pressure it's pressure sensitive tape it won't stick long-term if you don't allow it to grab by actually rolling it and you don't want to use your hand as the roller because you won't get even pressure. Now that we have our jams installed the next thing that we're gonna do is we're gonna address this head flashing. Now this is a tape that isn't required by most window manufacturers or Pella it's also not required to get your warranty from the makers of the zip system sheathing. However if we're sealing from this sheathing down to the jamb it accomplishes the same thing that we've done on the sides it stops an air leakage at that framing. There are a couple other things that we have to address while we're here because we have a vertical seam in our mock-up. We'll put our line across our layout line for our tape so that it can be nice neat and straight but here that layout line will also give us a reference for where we should cut that tape off because we want that tape to come down and lap over this in the end. So we'll cut that off or we'll peel it back and we'll have the ability for everything to shingle into place. So again we'll start with our layout marks and then I'm gonna take my knife and I'm gonna go up roughly a quarter of an inch that'll give me plenty of room to get my tape in there, get it rolled, and then when we add another piece at the end we'll be covering over that. There's one more step before that head flashing tape. We're gonna address the joint between our header and our Jack studs and we're just gonna simply put a piece of tape that turns the corner and that tape is gonna run lengthwise through the opening. When working with this stuff my favorite thing to do is lightly tack it to something and then I'm able to cut it. That way I didn't try to reel it out and keep it in my hand. So now I can take this piece, tuck it into the corner, slowly work it in so that it's straight, use my hand again to make sure I like where it's touching, and then we'll do the same thing on the other side before we move on to that head flashing. I'm gonna roll those things before I move on to the head flashing. Now I've limited the ability from air inside the opening in the corner to migrate out and in between Jack studs and king studs. The last piece of tape and I'm gonna allow that tape to fly a little pass to my vertical jams on each side ensuring that I'm covering fully. It also gives the ability to make my cut away from that piece of tape rather than here I'm out a little bit. I'm a press it in place with my hand make my vertical cuts and then fold it inward. Pressing it in place with your hand really make sure that your gonna limit the amount of air bubbles that you're trapping inside of it or just poor placement. Roll it and we're ready to unpack the window.
Installing a Nail-Fin Window Over Rigid-Foam Insulation Part 1
In this studio mock-up we're gonna install a flange window in a wall with exterior insulation. When you get to the project this foam actually won't be in place. What we have here is two inches of foam and a buck so that you can see where we're gonna wind up, however the starting point of this assembly is we're gonna waterproof from the substrate behind the foam around the buck and to the inside creating a weather tight at window installation. Now that we have the foam moved away you can see that we're gonna be utilizing the zip system sheathing is our WRB in this assembly that means that we're going to need to connect this WRP to the inside of our opening. There's a couple different ways that we can do that. One, we could use their stretch tape we could use their straight tape with a bow tie in the corners but in this instance I find it way easier to use the liquid flash to make all these transitions turns and connections in one piece. My liquid flash application starts with a few layout lines around the buck, that way I can ensure that I'm getting solid coverage all the way around. I'm gonna make three passes on the outside of each unit and then I'm gonna spread that to make sure that I have even coverage. I'm going to try to push my spreader into the opening where I'm really sharing it with that corner. I'm sharing it with that joint but I'm also trying to cover both the WRB and the and the framing but at the same time I'm not trying to jam it into the corner where I have a square corner. I'll have enough room around my insulation that I can handle making the transition from the framing buck to the WRV without it having to be really struck hard in the corner. The entire purpose of everything that we're doing here is to make one connection from the WRB of the zip sheathing down and into the opening. So we want to take special care when we're turning corners. We want to take special care when we're moving between different types of material or between different sections of the material. You don't have to worry about getting it in one pass the cure time for this liquid flash is somewhere between 20 and 40 minutes depending on temperature, so you have plenty of time to to work the product into place. The liquid flash is a moisture cure product so temperature's going to affect it but humidity will also affect it so if you're working low temperatures with low humidity it's going to take longer to set up. If you're working on a hot day with high humidity it's going to set up quicker, so you can see that our liquid flash is actually bridging across our horizontal tape seam. We have to be careful here this tape is shipped without a backing which means that this tape has a release agent on this side to keep the outer run of tape and the roll from sticking to it so we've taken acetone and wipe down the face of the tape there just so that we're sure that we get adhesion from our liquid flash to our tape. So there's a couple reasons that I started at the head and then worked one side. I'll move to the other side next and finish down here. the reason is this is kind of like painting I don't want this product to skin over so if I were to start say at this bottom right hand corner and work my way around I would be ending at the place that I started. It's more likely to have skin on it or starting to cure at that point then it would be if I start at the top work down and then do the bottom. Now that we have our sides and our head flashed we're going to add a piece of cedar bubble siding to the sill that will give us a positive slope to the outside in the event that we ever have a moisture. So when I'm working on this bottom sill I would rather start at the bottom and work my way around. That way even if I'm dragging horizontally if I need to turn the corner I can be pulling the material uphill rather than trying to drag downhill and cause drips. [Music] Now we're detailed to the backside of that cedar bevel siding we don't have to go beyond because we won't have water getting that far back and that cedar extends beyond where the inside of the window will actually be. We're ready to let this skin over and then install our window.
Installing a Nail-Fin Window Over Housewrap Part 1
In this studio mock-up we're gonna be installing a Pella flange window over drainable house wrap. That starts by cutting the window opening. This is going to be an eye cut so we're gonna cut completely across horizontally at the head and at the sill. We'll split the unit up the middle and then we'll make some more diagonal cuts for our head from there. Now that we have it all cut open we can trim this back a little and fold it in. Our next step in this assembly is we're gonna pull these tabs to the inside and fasten them. Then we'll trim them to a specific point so they don't protrude beyond the interior side of the window. We want to connect the window to our actual rough framing and not to the house wrap, that way we ensure that we have one solid connection of air and thermal barrier. The manufacturer of this particular house wrap allows for staples cap nails or just roofing nails. They do make a recommendation for cap nails if you're over 40 feet in the air or on a commercial project. You might have noticed when I made my eye cut at the corners I made a diagonal cut. This gives me the ability to fold this out of the way waterproof my window to the wall and then fold this back down. A final installation tape these corners creating a shingle effect where everything above lays over what's below. For now we use a piece of the tape to hold it out of the way during our installation. The next step is a sloped sill. We're gonna accomplish this by using a piece of cedar bevel siding. We could also cut our framing at a 5 degree bevel that creates a positive slope if any water finds it way in we can move it right out using gravity. After our sill is sloped we go straight on to their Hydra flash tape. The first thing that we're going to do for this sill is we're going to create a bow tied to bridge the corner that'll help us transition from this face to the inside and the corner. So we've cut a 6 inch piece of their six inch tape leaving roughly an inch in the middle of the material. We're going to cut a V inward. We'll start by seating this in the corner inside the opening and then we can turn the corner and pull it out. This is going to be here to protect this pinhole that will be created when we have a straight piece of tape and a straight piece of tape and that way we've bridged that turn. We can do another one for the other side. Now our next step is to apply the last piece of tape to the sill. This piece of tape is going to go from the backside of our cedar out and down over the face of the drainable house wrap. The nice thing about this tape is it has a split back so I'm able to peel one half at a time and work just part of the tape. So I'm going to go about six inches up the wall here and then I'm able to just peel and work my way across this last little bit. I'll pull it off all the way make sure I get it tucked into the corner and then turn up the edge. Now it's as simple as peel the second layer off and start to turn the corner. Because we've added this bowtie beforehand I now can cut the tape straight out and fold around the corner and I don't have to worry about creating a pinhole there anymore. The idea here is we're using the Hydra gap drainable house wrap but we're also using their tape. This gives us one manufacturer if we ever have an issue we have one phone call to make to get answers we have one phone call to make to solve problems. Now that we have the sill tape installed our next step will be add some cedar shims. These shims are cut from the same sloped cedar bevel siding that we installed earlier and what we're gonna do is we're gonna put them in the opposite direction. This is gonna create a level platform for our jams to rest on. It also gives us an opportunity to shim the opening at all if we have any error and in reality they'll help us maintain an even gap all the way around the window so when it comes time to air seal and insulate on the inside we'll be equally insulated all the way around. Now it's time to prep the window for test fit.
Installing a Nail-Fin Window Over Peel-and-Stick Housewrap Part 1
In this studio mock-up we're gonna be installing a Pella flanged window in a wall with a fully adhered membrane. The first step in the assembly is to go ahead and cut open our window value by cutting the sill flush and the head flush on the sides will come in roughly the thickness of the wall so that we're able to turn that in now again. We're gonna make an estimation for what that wall thickness is and we'll cut vertically same on this side, roughly the width of the wall. Now we're able to turn that flap inward and press it to our jamb. The next step in our waterproofing. We're gonna create a positive slope sill in the unit. We're gonna do so with cedar bevel siding. We could also do this by rough framing the sill with a 5 degree pitch but in this case we're just going to be attaching one piece of siding. That'll give us positive drainage to the outside and then we'll continue with our tapes each manufacturers spec might be different here this manufacturer recommends that we're gonna turn our tape six inches up the jamb go all the way across and six inches up the other Jim. This tape is only about three and a half inches wide so we'll do it in two runs. We'll start on the outside after i pre-cut this tape to length. I actually rear old it so that i'd be able to roll it out easily. It's a pressure-sensitive adhesive so I like to set the top edge before I go to make any cuts or turns. On this particular product we're gonna cut vertically at the corner and this piece is going to actually turn down in this direction and I have a little extra here so I'll just trim that back we'll cut the same thing here from that corner will go vertically and then we'll turn this tape down. Now that we've gently pressed it in place by hand we'll use a roller to fully adhere this product. There's a pressure-sensitive adhesive so it's not going to stay long-term unless you apply pressure with the roller. After we've rolled the entire unit we'll go ahead and add a bowtie to cover these little pinholes on both sides. Let me show you how we cut them. I have a block to protect my cell and the tape that we just put down. I've cut a 4-inch piece of their product. I'm going to fold it in half. I'm gonna make two cuts to create our bow tie shape. I like to start by pressing the bowtie into the opening and then I'm able to turn the corner here that'll give us the ability to shed water. I've covered that opening we'll do the same thing again on the other side. I'm going to roll both those bowties and then we're ready to do one more run of tape further into the opening just to push past where the window will be by adding this second piece of tape. Any water that finds its way in will shingle over and then over and wear to the outside. This manufacturer recommends a bead of sealant along the top edge here to just seal that edge off from any water that might find its way down the jamb. We'll do that now with the sausage gun. A quick tip with the sausage tubes a lot of people are worried about making this cut cutting all the way around with their knife it's unnecessary. If you take your knife and just poke it in two or three places that'll be enough so that you'll be able to get it to start coming out. Now we're taking a piece of that cedar bevel siding that we've cut as a shim placing it in the reverse orientation that will give us a level point for our jamb to sit on both ends of the window.
Installing a Nail-Fin Window Over a Fluid-Applied WRB Part 1
in this studio mock-up we're going to be installing a pellet flange window in a wall with a fluid applied membrane the first step in this installation is going to be installing a sloped sill the reason for installing this is we want the water to migrate out if we ever do have moisture inside the wall we could do this in two ways the first way which we're gonna do here is we're gonna use a piece of cedar bevel siding the second way and rough framing we could slope this sill we'd simply just cut our Jack studs at a 5 degree bevel let's start by installing this sill to flash the opening we'll be using the joint and seam product from the same manufacturer you can see that we've already had it out it's poking through here you can kind of see where we've detailed our nail heads and all of the seams in our sheathing this product will allow us to have one membrane from the inside of the jamb all the way and out and onto the face of the WRB I'm just laying out a bead now to try to get enough that when I work it with the tool that I have good even coverage I'm not too concerned if I'm a little on the light side but I am gonna take special care to make sure that I'm completely covered I like to add an extra bead between the sub sill and our cedar sill just to make sure that I'm really making that connection now the idea is just to spread the product to cover the substrate making one membrane from inside of opening out and onto the face of the WRB this joint seam product works in conjunction with the product that we already rolled onto the wall this product just has a little more body and fiber to it and making things easier to work and connect any spots where you're a little thin you're able to just lay more product out and tool again as a good rule of thumb you want this downturn to extend beyond where the window flange will be my reasoning for going all the way to the inside of the jam I might use a little bit more material but once the windows installed it's very easy to connect my air barrier from the window jamb to the framing jamb [Music] final step before we test fit the window is we're going to use a couple pieces of our cedar shim and we're gonna place them the opposite direction of our sill that'll give us a chance to check for level across our opening we can make any finest 'men test fit our window you English (auto-generated)
Published
 September 21, 2020
About the Author
Pella Corporation
With Pella, you get so much more than stunning windows and doors. Since 1925, we have been a leader in innovation, going beyond requirements to make beautifully designed products you can be proud to own.