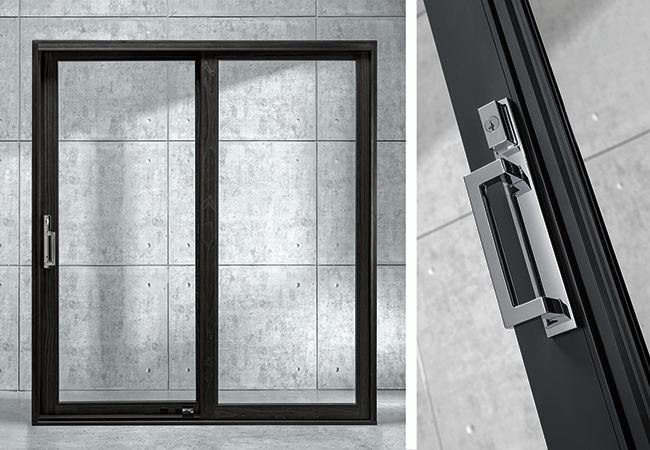 Modern Patio Door With Performance
Find out how new modern patio doors enhance Pella's contemporary line.
---
Pella recently introduced new modern patio doors to enhance the Architect Series® - Contemporary line. We sat down with our own Natalie Reed to talk about the opportunities these new doors offer to contractors and customers, and how they help bring a contemporary design vision to life.
How does adding modern patio doors to the contemporary line benefit contractors?
Natalie: We see more and more homes being built with a contemporary look. And these new doors make contemporary projects much easier to complete because contractors can get all their products from one place. Now they won't have to compromise with wider stiles or rails, go to another supplier, or manage multiple suppliers at once. They can get everything quickly and conveniently from Pella.
What customer needs did Pella fulfill with the new contemporary offering?
Natalie: Hinged doors take up living space. Pella contractors can now offer customers a smart alternative to hinged doors so they can maximize their space. Plus, these doors complement our current contemporary casement and awning windows for a complete modern look.
Can you tell us how Pella solved the challenge of combining energy efficiency with larger expanses of glass?
Natalie: To ensure we offer a product that matches the performance of traditional doors while providing large panes of visible glass, we conduct thorough air, water and structural tests. We also dedicate a lot of time to designing the core of the door to reinforce a high-quality product while achieving large, attractive sightlines. We believe patio door performance matters.
Contractors can also offer more glazing options now. They can recommend double- or triple-pane glass with krypton gas for improved energy performance and more protection from weather and outside noise.
Pella upgraded the locks for the contemporary line. What's new?
Natalie: The locks feature Baldwin® SmartKey™ Re-Key Technology. SmartKey technology really comes in handy for contractors because they don't have to keep track of multiple keys with each project. They're able to re-key the hardware and deliver one set of keys to the homeowner.
Homeowners can also manually re-key hardware so they can use the same key on all doors. Plus, the new locks function more intuitively. In the past, you'd lock it first, then shut the door. Now you shut the door and then lock it.
What makes contemporary patio doors attractive to contractors and homeowners?
Natalie: Their biggest benefit is that they maximize visible glass with the least amount of wood possible while still providing superior performance. They're clean and simple with generous sightlines that really help bring natural elements indoors. Contemporary patio doors also play well with many styles, from urban to rustic. Regardless of where you are in the country, contemporary works. It's so versatile.
Product Details & Downloads