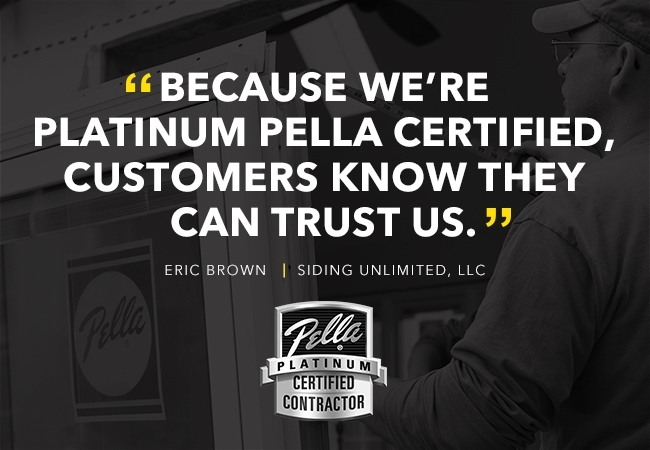 The Family Business: Becoming a Platinum Pella Certified Contractor®
Siding Unlimited trusts Pella's products, and build their business through the insight and support of their Pella team.
---
Eric and Aaron Brown have always known the value of a good partnership. After all, they've been teaming up on their business, Siding Unlimited, LLC, since they joined their contractor father on jobsites during high school.
"We developed our work ethic during those summers," Eric Brown explained. "Not only was it a great way to save for college, but we also learned all about window and siding installation, roofing, decking and talking to customers."
After finishing their college educations, Eric and Aaron decided to take the business their father built in 1994 to the next level and make a name for themselves in the Milwaukee market.
According to Eric, building a trustworthy local business started with quality products backed by a trustworthy brand. So they made Pella their window brand of choice.
"We already had a reputation as an honest local company," Eric said. "And combining our reputation as a trusted local brand with Pella's trusted national brand gave us a lot of credibility among our customers."
In addition to trusting Pella's products, the Browns build their business through the insight and support of their Pella team.
"Pella has proven to me that they are not looking at us as just local guys in Wisconsin," Eric affirmed. "They see us as valuable partners, too."
One benefit of Siding Unlimited's working relationship with Pella is the resources provided with their Platinum Pella Certified Contractor® status. Eric believes that not only does the designation strengthen their brand, but it offers an additional level of trust among customers.
"If a homeowner calls with an issue, we know that Pella will help us take care of it. Other window manufacturers don't necessarily do that," he stated.
Pella's resources also reinforce the company's commitment to education. Their team of salespeople and carpenters use Siding Unlimited's designated testing facility to try different products and installation methods, and they exchange new information during biweekly training sessions.
"We don't have jacks-of-all-trades. Everyone is a master of their trade. But from an education standpoint, we are all able to learn about different products, options and installation methods a lot easier through the Pella Contractor Program," Eric explained.
Platinum options like customer financing through GreenSky and leads through HomeAdvisor have also made it easier to connect with homeowners regarding their renovation needs.
"GreenSky has taken the financial hurdles away from us so we can focus on the customer and their project," Eric said. "And HomeAdvisor has helped us target specific customers."
Eric summed up Siding Unlimited's Platinum status as a way to help each member of his crew make a good impression on homeowners – which is a vital component of his business method.
"We're proud to offer a consistent, honest approach throughout the entire company. It speaks volumes to our customers. And when people see that we're Platinum Pella Certified, they know they can trust us."
Product Details & Downloads