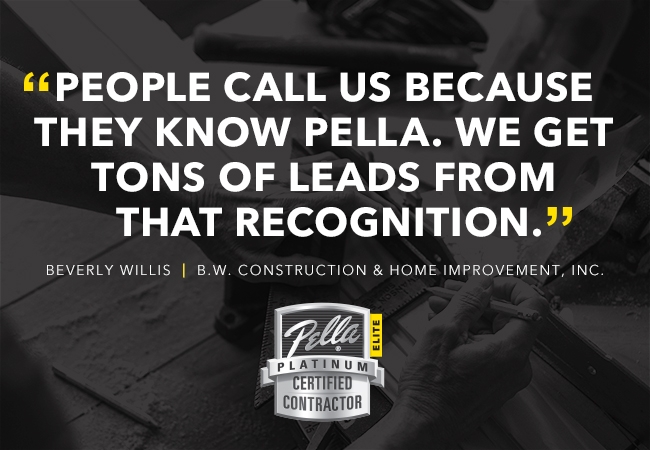 How a Family Business Grew into a Top Pella Certified Contractor®
Beverly and Bob Willis took their business from infancy to elite.
---
When Elite Platinum Pella Certified Contractors Beverly and Bob Willis founded B.W. Construction and Home Improvement Inc., in Roselle, Illinois, in 1997, one of the first business decisions they made was to partner with Pella Windows and Doors and the Pella Contractor Program.
"We've been with Pella since day one," Beverly said. "Bob worked for a Pella contractor early in his career and had a great experience. So as soon as we incorporated our business, we became Pella contractors."
Becoming Pella Certified Contractors early on paid off as B.W. Construction expanded the business throughout the years with training for everything from installation to sales.
"When we were just starting our business, we had a lot to figure out. Pella is quick to pass along key knowledge about building a business – new sales techniques, new ideas and anything else their experts find to grow sales," Beverly explained. "Having that guidance from an established national company has been a huge benefit."

Over the past 22 years, B.W. Construction has continued to gain recognition by proudly advertising their Pella partnership.
"Advertising that we're an Elite Contractor is a great sales claim for us – and the Pella logo has pushed our growth from day one," Beverly stated. "People call us because they know Pella. We get tons of leads from that recognition."
In addition to name recognition, B.W. Construction has gained customers with program sales tools like GreenSky® financing and MarketSharp® lead-generation services. Plus, the relationship they've built with their Pella Showroom rep has opened them up to several new projects. "Our local showroom knows us, and they trust our team of expert carpenters. So when they encounter a project with a more difficult installation, like a rebuilt opening or roof over a window, they call us."
B.W. Construction also benefits from the relationship and support they receive after each sale from Pella's dedicated service team.
"We're so busy, and the Pella service department is a time-saving benefit that a lot of other companies don't have. It's a big selling point for both us and our customers."
After more than 22 years in business, Beverly couldn't be happier to own a company that almost exclusively sells Pella® products.
"Whether your business is just starting out or has been established for a while, the support you gain from the Pella Contractor Program is second to none," Beverly stated. "There are other good window companies out there, but we get the best support, service and quality from Pella."
Product Details & Downloads