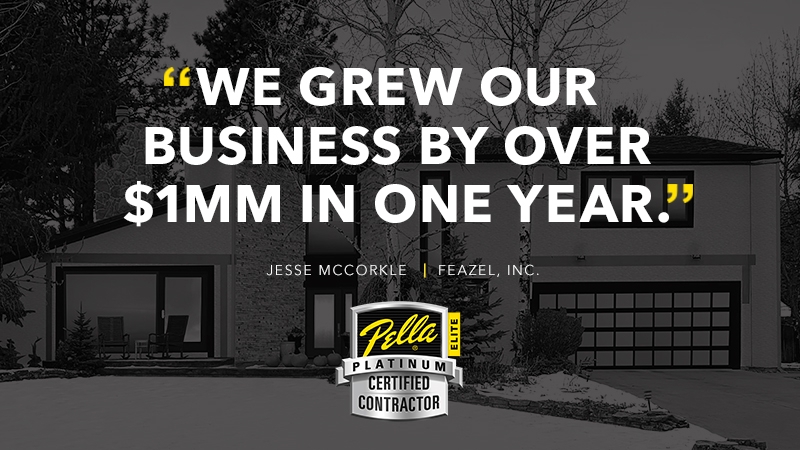 How One Contractor Made an Extra $1 Million with Pella in One Year
Elite Platinum Pella Certified Contractor® Feazel, Inc. increased their Pella sales by over $1 million in one year, winning the 2020 Greatest Growth Award. See how they continually expand their business with advantages like marketing funds, personalized strategy and the dedicated support of their local Pella team.
---
When Feazel, Inc., a full-service exterior remodeling business, decided to double down on their growth, they quickly realized Pella was a natural choice to help achieve their goals. And it paid off when they earned the Pella 2020 Greatest Growth Award — increasing annual Pella sales by over $1 million in one year.
"Last year, we decided to put our heads down and started running," said Jesse McCorkle, regional sales manager at Feazel. "We wanted to service more clientele in a more complete way and went looking for a window brand that had a reputation for quality. Pella was a natural choice for a partner."
While Feazel was initially drawn to the Pella product portfolio, they quickly discovered the business support benefits their local branch offered would be essential for achieving their growth initiatives — which motivated them to move up the ranks to Elite Platinum Pella Certified Contractor® at breakneck speed.
"Pella gets in the trenches and runs with us hard. We haven't experienced that with a lot of manufacturers," said McCorkle. "They put dedicated effort into helping make us successful, like helping us with the sales process for a specific customer, educating clients and even assisting with installation. It alleviates so many headaches and allows us to direct our focus on growth rather than day-to-day issues."
McCorkle said his local Pella team is always ready with a quick solution to any need they might have at a project or client level.
"I'll call my rep, Nick, and say, 'I need a sample immediately,' and he'll tell me, 'You'll have it in two hours. That's so empowering,' he explained. "It's like our business is a hot, spinning wheel and they just hop in at the same pace without missing a beat."
The co-op marketing funds Feazel receives as an Elite Contractor will play a critical role as they expand their marketing efforts to grow their business even further.
"Our Pella Certified Contractor rep is working with Feazel's marketing director to help us develop a strategy for how we allocate our co-op marketing funds," McCorkle mentioned. "It's so motivating to have these kinds of growth conversations with people who are invested in your business and have experience with almost any idea you come up with."
McCorkle said Feazel greatly benefited from the ideas they learned from the Pella Contractor virtual summit.
"We saw how many companies were receiving the same great service we do," McCorkle said. "We learned what a lot of other businesses were doing to use Pella services for their growth. And that kick-started conversations on what else is available for us. So far, we've never hit a dead end with the ways Pella can benefit us. When it comes to trying something new, it's great to have Pella's support because they've already shined a light on that area and explored it."
"We've seen wild growth. And we attribute a lot of that success to the people around us. When it comes to suppliers, it's easy to see that Pella has risen to the top."
Product Details & Downloads