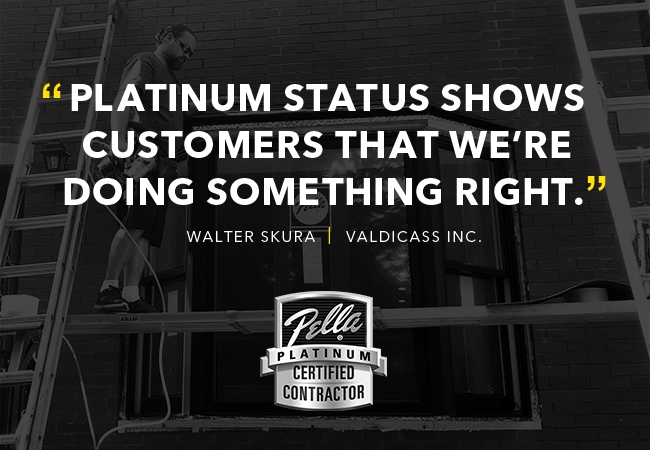 How One Contractor Grew Over 300% by Leveraging the Pella Certified Contractor Program
Contractor leverages Pella's tools and expertise to help grow his business.
---
The builders at premier home improvement company Valdicass Inc. go above and beyond – exceeding expectations, beating timelines and increasing their growth by 387% in 2017. But ambitious only begins to describe the work ethic of Walter Skura, the founder of Valdicass Inc. Because only eight months after joining the Pella Certified Contractor® (PCC) program, he earned his Platinum Pella Certified Contractor status – which fewer than 1% of contractors can claim.
As an immigrant from Poland, Skura was never one to shy away from hard work. When he came to the U.S. in 1994, he learned the window and door trade, and within two years, he was running his own business while learning the English language.
Skura and his sales manager chalk up the company's exceptional growth and their Better Business Bureau Torch Award nomination to an incredible amount of hard work, the right marketing tools and the support of the entire Pella team.
Skura said that he had been working closely with his rep for some time, and his rep introduced him to the program. According to the team, "The PCC program is a fantastic way for a contractor who already has the initiative to get help to succeed and push forward. Pella provides the tools, the expertise – whatever you need – and no one is ever afraid to take the phone call if you need to reach out for help."
Before joining the program, Skura was receiving two to three phone calls a month for new business. Now, Valdicass Inc. receives 10 to 15 calls a week. Skura attributes 75% of their company's business to referrals. The rest come from the great marketing tactics supplied by the program.
The Platinum Pella Certified Contractor program offers training seminars where contractors can learn how to create relationships with potential customers, sell the products and improve their online presence. Pella Certified Contractors and Platinum Pella Certified Contractors also have access to Marketing on Demand. This program feature allows businesses to instantly acquire the marketing materials they need to boost their brand presence and attract new business.
Skura's sales manager explains, "It's not just about landing new customers. It's keeping the customers we have happy. They're able to see the social marketing. They're able to put it up and send it off to their friends, family and colleagues."
He added, "A lot of these industry standards, the social networking and the social media are learned behaviors that we've pulled directly from Pella. They have been a fantastic driving force."
The Valdicass Inc. team agrees that their local Pella branch also has an above-and-beyond attitude. "Scott Gardner is different from other supplier representatives. He will come to the site, grab a window and help lift it in. He'll bring out the full promotional and marketing tools. He'll invite us to the next seminars. He will go every mile he can to ensure our success."
What the team likes about working with Pella is that there are no middlemen. From the financial tool, GreenSky, that can have a customer approved for project financing within minutes to the products that come right from the factory, Valdicass Inc. benefits from a streamlined process and can pass the savings on to their customers.
Skura's goal is to triple his business again. He believes he is able to pick up more jobs because Pella supplies such a wide variety of products that he can install, whether for a single-family home or a downtown apartment building.
"The other benefit is just being able to put my business's name on Pella's website as a Platinum Pella Certified Contractor®," he stated. "Platinum status shows customers that we're doing something right."
Product Details & Downloads