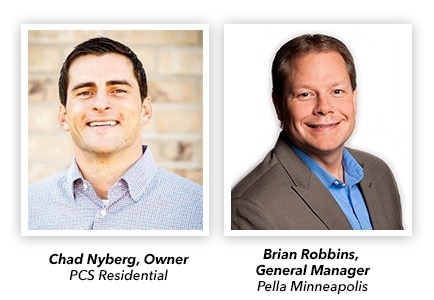 Contractor Becomes More Efficient With Pella
Minnesota contractor takes advantage of Pella's prefinished windows to increase productivity and improve their overall margin.
---
In 2010, an alliance was created between PCS Residential in Eagan, Minnesota, and the Minneapolis branch of Pella Windows and Doors. Pella's brand reputation was well-known in the area, and by working with PCS, a win-win business growth dynamic was developed. New efficiencies were discovered. Errors were minimized. Multiple suppliers were consolidated into a single source at Pella, thus eliminating confusion. By working with Pella and taking advantage of Pella's prefinished trim service and interior prefinished windows, PCS has been able to increase productivity and improve their overall margin.
PCS Owner Chad Nyberg and Pella Minneapolis General Manager Brian Robbins talk about their relationship and how contractors can better their business.

How has using Pella's prefinished trim and interior prefinished windows benefited your business?
Chad: When looking at the amount of time from winning a job to finishing a project, we have cut down on process time by up to 25 percent by consolidating our suppliers and contractors for windows, finishing and trim. Not only has there been an overall time savings in the process, but also fewer errors. And fewer errors mean less headaches for our team.

Other than prefinish, what other areas are you focusing on when it comes to improving efficiency as a contractor?
Chad: We have been focusing on more first-time completions: getting the job installed the first time without any callbacks. When we don't complete a job on time, we aren't able to get full payment, and this affects cash flow. We also now have a field tech that spends time in the field with install crews to ensure the process on job sites goes smoothly.

One challenge contractors have when it comes to job site efficiency is skilled labor shortages. Have you experienced this?
Chad: We were fortunate to ramp up our business when the economy was down and have been able to provide consistent work for our crews, which has helped us retain crews. The keys to our success have been setting clear expectations for our crew and consistently delivering projects with a definitive process.

What's unique about the Pella-PCS relationship?
Brian: As we've worked with PCS, we've moved from a transactional model to a strategic, high-level model where we meet with them to talk about margins and how we can help with that. We've had their team in the showroom and talked about how they can sell value to homeowners and upsell products that will benefit them.
The power of Pella is not transactional — it's strategic and relational. We try to help each other be better and improve margin. It's less about taking orders and more about a partnership where you are truly interested in how they are growing their business.
Product Details & Downloads