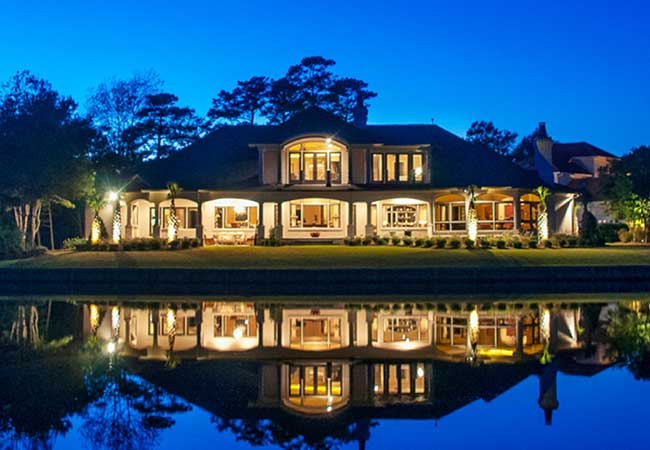 Building a Brand That Stands the Test of Time
Whether you just opened up shop or you're a veteran in the building business, we all share the same goal; to grow our business and meet the demands of our clients.
---
Whether you just opened up shop or you're a veteran in the building business, we all share the same goal; to grow our business and meet the demands of our clients. But building a brand takes time – and maintaining that brand takes a lifetime. That's why we sat down with Jeff Sanderson of the award-winning Whitney Blair Custom Homes to learn more about his experience in building an enduring brand. Here are some of his secrets to success:
Pella: Tell us about your experience with building. How did Whitney Blair come to be?
Jeff Sanderson (JS): I started working in the development business in Chapel Hill, North Carolina, about 33 years ago, so Whitney Blair has been the result of years of hard work. Eventually, I transitioned from development to focusing on building houses. I've always had a love affair with architecture.
My passion for beautiful homes is part of the foundation of Whitney Blair. If you stop and think about it, it takes the same amount of time, effort and resources to build a good-looking house as it does to build an ugly house. The difference is understanding architecture and getting the details right. This emphasis on good architecture has always been important to me. That's why we're a full-service design-build firm. We have an ASID interior designer on staff, and we oversee the entire building and design process for our clients, from start to finish. This is one of the differences with Whitney Blair Custom Homes and what really sets us apart.
Pella: In addition to being an Accredited Master Builder, you have also been named a Southern Living Custom Builder of the Year. When you look back, what has led to your brand's success?
JS: I think part of it is that we are a design-build firm. When customers walk in, they don't have to go anywhere else. From the beginning to the end of a project, we meet with clients to determine their needs. We include them every step of the way – especially in the design process because that's so important. I always tell clients, "If we do our job right in the design process, by the time we get to construction, we're on autopilot." So, part of our success is our dedication to excellence.
But I think another key contributor to our success is the brands we've chosen to align ourselves with. If you want to be a quality, enduring brand, you have to align yourself with brands that reflect the same qualities. People recognize Whitney Blair in Brunswick County, but working with Pella gave our name even more clout because they are a quality brand with unbeatable service and products.
Third-party validation, whether from achievements or partnerships, goes a long way with our clients. When we build a house, one of the last things we do is take off the Pella stickers. We do this so that when people drive through the community, they see that our homes are being built with the best products – they see the Pella brand on the windows, which ties back to the Whitney Blair name and makes us look even better.
Pella: What prevents builders from creating a successful brand?
JS: If you're not dedicating yourself to excellence in your customer experience and differentiating your company, it's going to be very hard for you to build a name for your business. But more than that, it might also cost you a lot of wasted time and money.
Pella: Yikes. And this is an industry where time and money can't afford to be wasted.
JS: That's right. That's another reason why I am a Pella fan. I've used every window out there over the years, and with Pella, it's better. The experience is unlike any other brand in the market. As a result, it translates into what is in the best interest of my client.
Pella: What's different about working with Pella?
JS: Most windows in the industry are distributed through your lumber supplier. This means that you rarely get to deal directly with the window manufacturer. So if I have an issue, I have to go back to the lumber supplier. From there, they send a lumber salesperson out to my jobsite.
Now, most places where builders can buy windows, like lumberyards, don't focus on just windows and doors. This makes it difficult for them to be the experts on windows and doors, which can lead to problems when I need to get help. That's a multiple-step process. In the meantime, you have a client with an issue, which translates to an issue for me. Not the smoothest way to do things.
With Pella, you're dealing directly with Pella and the distributor. If and when there's any sort of issue, Pella has its own service set up and it's a much better process for both the client and me. In addition, after the client moves in, we contact Pella and a representative comes out to show the client how to properly operate and maintain the windows and doors. It's a really good experience for the client, and they feel much better about the quality of the product as a result. No other company we've worked with offers this kind of service.
Pella: And why is that kind of one-on-one service important?
JS: Anything that makes business easier is good for us because we are in the business of trying to eliminate issues. If one of my clients has an issue, I have an issue. So, I want to eliminate or prevent all of my clients' issues. Pella helps eliminate issues for us, which makes us look better and is good for our business.
Choosing Pella over the lumberyard also saves us time by eliminating steps and unnecessary meetings. And in this business, if you can save time, you're making money.
Through his dedication to creating beautiful, high-quality homes, Jeff Sanderson has turned Whitney Blair Custom Homes into a hugely successful, award-winning brand. By helping customers during every step of the home-building process and only using the best materials during construction, Sanderson has made the key to his success clear: be excellent.
To learn how Pella can help your business, contact your local Pella sales representative.
Product Details & Downloads