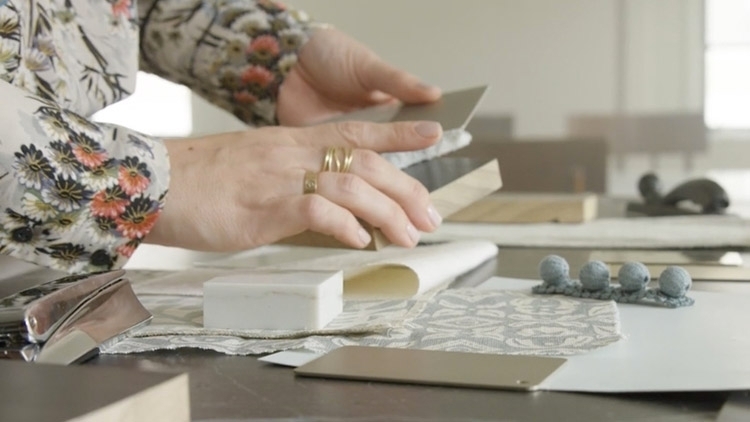 Wood Window and Door Finishes to Complement Your Home
From light to dark to modern gray, Pella's wood windows and patio doors are available in an array of classic and on-trend colors.
---
When designing or renovating your home, color palettes are a top consideration. This often extends to upholstery, rugs, art and accessories, but don't forget to think about one of your home's most important features — windows and doors. Selecting a wood paint or stain color that coordinates with your overall aesthetic is a design choice not to be overlooked. The right window or door finish can help enhance your space and pull your design together.
Wood Finish Options for Every Style

Wood Finish Options for Every Style
Wood windows and patio doors are available in Pella® Reserve™, Pella Architect Series and Pella Lifestyle Series. Just take a look at the variety of wood finish colors available on Pella Reserve products and imagine the possibilities. Once you have identified the style of your home, identify the type of window or door that best matches your style, then consider your finishes. Houston-based interior design Meg Lonergan, says "Once we have the theme of the house selected, that helps us decide what colors the windows should be."
Whether you want to create a specific mood or add a bit of personality, the colors you choose for your home tell a story. Just as earth tones bring the outside in, high-contrast colors convey a modern design – it all depends on your home's style. Here, we take a look at five beautiful hues and how to style them.
Warm up Interiors with a Wheat Window Finish

The Wheat wood window and patio door finish is a warm tone that beautifully complements both dark and light color schemes. Used in tandem with dark palettes, a window or patio door with a Wheat finish take on a more contemporary look, while a lighter palette will appear more traditional. Contrasting finishes like satin nickel add visual interest to a window in this color while allowing for versatility in a home's design.
A Wheat finish is subtle enough to pair nicely with neutral tones and textures. This finish fits right in with homes in the craftsman style, which places a heavy emphasis on natural materials.
Make a Statement with a Rich Espresso Window Finish

Choose Espresso as a finish if you are looking for a deep chocolate brown color to warm up your home. You'll definitely make an architectural statement with this dark stain on your home's windows and doors. The rich finish brings elegance to any interior, while still adding warmth. Espresso windows and doors provide contrast to crisp, light interiors and also offer a lovely complement to blue hues.
The dark Espresso color has a timeless appearance that pairs nicely with hardware in contrasting finishes. Take the classic aesthetic up a notch with a traditional grille pattern on your window or patio door.
Be Bold with a Charcoal Window Finish

Want to go even darker than Espresso? Create a sophisticated look with the Charcoal finish. Charcoal is a dark, warm window and door stain that pairs well with mid-tone woods, travertines or stone for a modern or traditional appearance. Once associated most commonly with contemporary spaces, a deep Espresso finish is now equally at home in a classic colonial, offering an updated twist on traditional style. "It makes a beautiful architectural statement when you use a darker color on the window," says designer Lonergan.
For a minimalistic vibe, consider hardware in a corresponding color, like matte black, that blends in with the window or door. Or, consider dressing up your window with hardware in an antique brass or polished chrome finish.
Artisan Greige is a Stylish Neutral for your Windows and Doors

A classic neutral, our Artisan Greige finish blends effortlessly with white, satin nickel and polished nickel finishes. This finish offers a slight variation from the standard white, while still providing a similar quiet aesthetic. This finish tends to have more traditional appeal thanks to its subtle presence but can take on a more modern look with the addition of sleek polished nickel hardware in a contemporary style.
Enjoy the Calming Effects of Skyline Gray Windows

The Skyline Gray finish is a calming color that walks the line between modern and traditional. Create a relaxing atmosphere in any room with soft, neutral tones complemented by a Skyline Gray finish for your home's windows and doors. This transitional finish can be taken a more classic direction with a traditional grille pattern and satin nickel hardware or opt for a square grille pattern and matte black hardware for a more modern approach.
However you personalize your Skyline Gray wood window or patio door, the elegant gray hue will be right at home in your unique space. "I definitely feel this color palette is here to stay," says Lonergan. "It's classic."
If you're torn between multiple color choices or want to see how the finish and hardware style of your window will look together, use our window design tool to visualize your unique product before you make your big decision.
Explore Window Features & Options
Explore What Pella Has to Offer