Pella® Reserve™ – Traditional Wood Double-Hung Window
$$$$-$$$$$
Winner of the 2019 Most Innovative Window from Window and Door Magazine, the traditional Pella Reserve double-hung window with the optional Integrated Rolscreen® retractable screen preserves the aesthetic view. Historic putty profiles, through-stile construction and Integral Light Technology® grilles create the traditional look your historic renovation, new construction or replacement project requires. Authentic spoon-lock hardware and innovative sash lugs complete the look.
Pella Reserve products have been reviewed and approved on a case-by-case basis by the National Park Service for use on projects with historic tax credits.
Reserve - Traditional Double-Hung Window Features
Why Wood?
Best limited lifetime warranty47
Natural beauty and warmth
Low-maintenance exterior aluminum cladding
Exclusive wood protection
Most customizable material
Performance Enhancements
Innovative and energy-efficient grille solutions
Optional sash lugs for historic look with modern-day tilting for ease of cleaning
Winner of 2019 Most Innovative Window with optional Integrated Rolscreen
Browse Other Pella Reserve - Traditional Windows
Inside Pella Reserve - Traditional
Pella Reserve products are made with high-quality wood, metal and manufacturing processes. Our exclusive EnduraGuard® wood protection is applied after the pieces are cut and milled, but prior to final assembly for exceptional protection against the elements. Durable, extruded aluminum-clad exteriors with EnduraClad® exterior finish resist chalking and fading.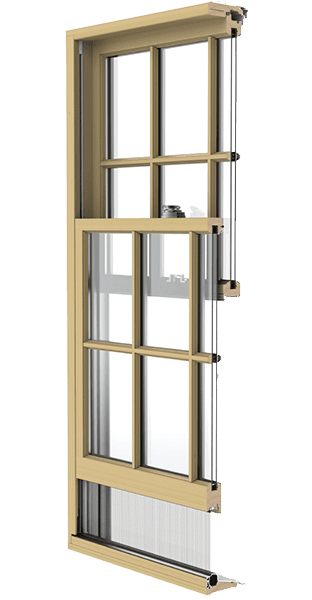 For the Pros
Reserve - Traditional Double-Hung Window Specs & Install Details
Exudes the tenets of traditional design with putty profiles, through-stile construction and Integral Light Technology® grilles
Performance rating of CW40-CW50 and STC of 28-35
Available in sizes up to 48" x 96" in 1/8" increments, with equal, cottage and custom splits
Optional self-storing Integrated Rolscreen appears when the double-hung window is opened and rolls away when it is closed
Fold-out Fin, Block Frame, EnduraClad Exterior Trim and Brickmould installation and frame options
Request a Project Quote
Options for Pella Reserve - Traditional Double-Hung Windows
---
Styling Your Window
---
Hardware
Pella's hardware styles are available in today's most popular finishes.

Spoon-Style Lock - Champagne
For Pros
Sash Locks and Lifts
Pella cam-action locks are designed to increase leverage as the window is closed to assure a superior, weathertight seal.
Two sash locks and lifts are standard on larger double-hung windows.
Window Opening Control Device (WOCD) and limited-opening hardware are available. WOCD hardware is factory installed.
Grille Patterns
Grilles give the appearance of individual window panes. Pella offers many grille patterns to help enhance your home's architectural style.

Cross
Grille Profiles
For the classic look of individual windowpanes, choose grilles-between-the-glass and Integral Light Technology Grilles. Learn more about grilles

7/8" Ogee Integral Light Technology
For Pros
Grille Profiles
Integral Light Technology® (ILT) Grilles - Combine the historical look of true divided lights with today's energy efficiency, structural integrity and water-resistant performance. Grilles are adhered to the outside of the glass – wood on the interior and aluminum on the exterior. Between-the-glass nonglare spacers, which are aligned with the interior and exterior grilles, replicate the appearance of true divided lights. Grilles have been approved by the National Park Service on a project-by-project basis for use on historic projects involving federal tax credits.
Grilles-between-the-glass - Permanent aluminum grilles are factory-installed inside the airspace of insulating glass to provide the look of divided lights while making glass cleaning easy. Exterior finish matches aluminum-cladding color.
Removable interior grilles - Roomside wood interior grilles are securely attached to the interior, but can be removed for glass cleaning. Available prefinished to match the interior wood finish and exterior cladding, and in two standard and custom widths.

Integral Light Technology® Grilles

Grilles-between-the-glass

Removable Grilles
Window Enhancements
---
Integrated Security Sensors
Stay connected to your windows.
Preserve beauty, add comfort and enhance home security with innovative Pella Insynctive® technology.
Built-in beauty. Optional integrated sensors with time-tested wireless technology are built in and tucked away, out of sight, to preserve the beauty of Pella windows.
Protect what matters most. Monitor windows while at home or away with the Pella Insynctive App.40
Maintain warranty. Sensors are installed during manufacturing and require no additional drilling. Learn more about Insynctive.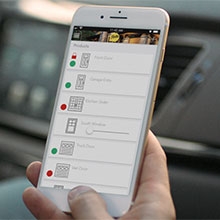 Screens
Window screens play an important role in your home's light, ventilation, and view. Pella's high-transparency screens are made of a finer screen fabric than conventional screens, so they allow more air and natural light to flow into your home – and your view is crisp and clear. And unlike ordinary screens they're practically invisible from the street, so they improve your home's curb appeal. Learn more about screens.
Pella Vivid View® screens truly bring the outdoors in with 29% more light and are 21% more open for improved airflow compared to conventional fiberglass screens.5
Pella InView™ screens let in 14% more light and are 8% more open for improved airflow compared to conventional fiberglass screens.5
Integrated Rolscreen appears when you open the window and rolls away, out of sight, when the window is closed. Available on both top and bottom sashes.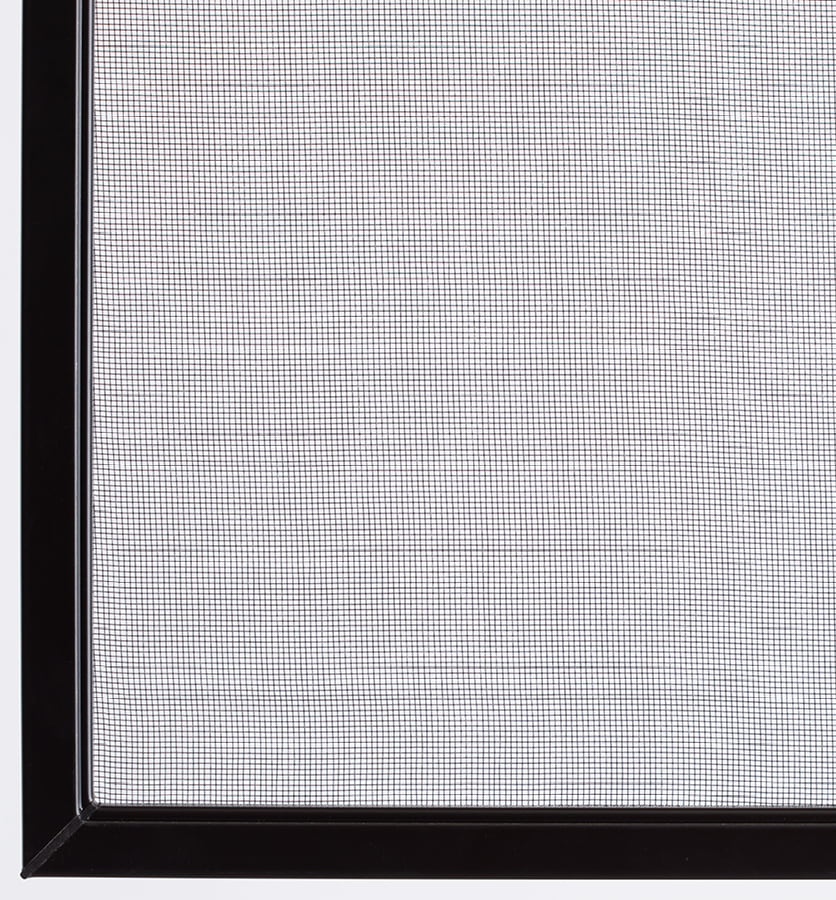 Compare Double-Hung Windows
Explore Other Window Product Lines