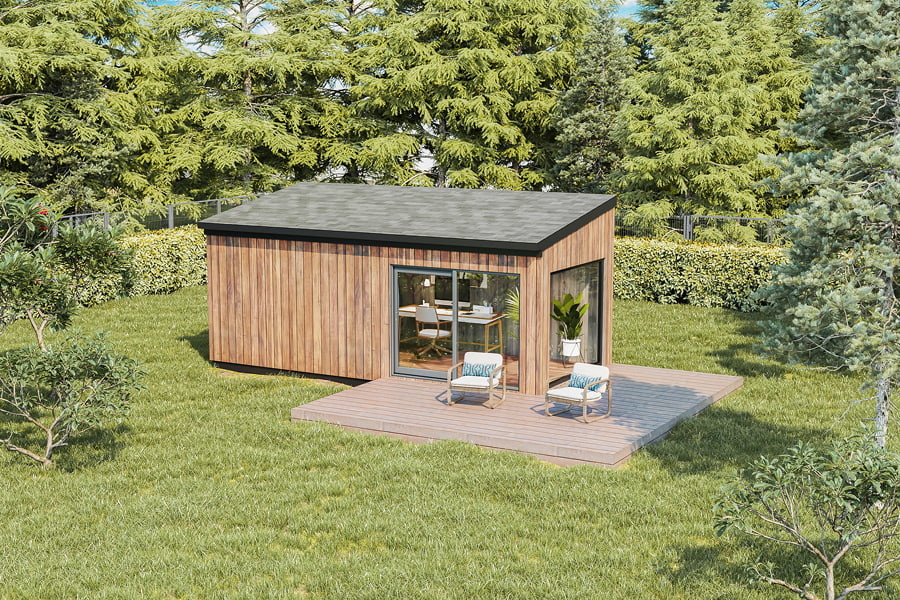 Working Outside the Box: Backyard Office Accessory Dwelling Units
Addaspace's repurposed shipping containers help maximize square footage to create the perfect home office.
---
Project Details
Type:
Location:
Products Used:
Rhode Island-based Addaspace first began producing sustainably manufactured Accessory Dwelling Units (ADUs) as "bonus" backyard offices. To give these economical units plenty of natural light, ventilation, and a welcoming feel, Addaspace called upon the local Pella showroom in Southern New England. Installing Pella Lifestyle Series windows and patio doors doors became the clear choice for this collaboration. Their style, design flexibility and exceptional performance options transformed each ADU into an extension of home.
The Benefits of Building an ADU
ADUs like those constructed by Addaspace are compact, additional housing units built or placed on a homeowner's existing property. Many U.S. states and municipalities now allow ADUs. The average ADU ranges from 600 to 1,200 square feet, depending on particular state and city regulations. Most units include their own kitchen, bath, living/sleeping area and a separate entrance.
Among the main advantages of ADUs are their reasonable cost and quick installation. Homeowners can buy ADUs that are prefabricated or can be quickly assembled on site. ADUs like this allow homeowners to extend their living spaces without the hassle of getting remodeling building permits, working with contractors, and living through construction mess.

Affordable ADUs Keep Sustainability in Mind
Rather than building their units entirely from scratch, Addaspace recycles retired metal shipping containers as the core portion of their structures. "These containers are a sustainable and cost-effective solution that allows us to use less new lumber and keep our ADUs reasonably priced for our customers," says Andrew Naperotic for Addaspace. "Addaspace's ADUs are more spacious than the so-called 'tiny houses' that have been popular in recent years."

Large Picture Windows Bring the Perfect Home Office to Life
When you're working from home, constant distractions can limit your productivity, especially if you are working in a space that also doubles as a playroom, kitchen or TV room. ADUs from Addaspace allow homeowners to create additional, dedicated office space.
Addaspace's interiors and exteriors are sheathed in natural wood and other sustainably produced materials and feature Pella's large, customized windows. Addaspace dwellings don't look or feel anything like shipping boxes. The abundance of natural light and stunning natural finishes create a serene space primed for productivity.
Addaspace home offices, guest houses or in-law suites and gym units feature expansive, picture, floor-to-ceiling windows that help spaces feel more intimately connected to the outdoor world. Pella Lifestyle Series windows and patio doors deliver the beauty of wood and the design flexibility to work with any home style and décor, including contemporary and modern. Energy-efficient dual-pane picture and sliding windows help maintain the building's compact footprint by not taking up any additional floorspace and help keep the space more comfortable year-round.

Since they first launched their ADUs, Addaspace has greatly extended their dwelling product line. Buyers can choose from a number of these and other design options during their custom ordering process. To save energy, the ADUs' insulation is designed to be eco-friendly and to meet or exceed local code requirements. Many of these units are now being used as:
Granny pods (also called in-law suites): Older family members have private spaces but can live on the same property as other generations of their family.
Flexible "bonus" spaces: Today's much-needed home office could later become a yoga space, art studio, prefab guesthouse or transitional living space for a recent college graduate. The space can easily change as a property owner's needs evolve.
Income-producers: Homeowners may rent these self-contained units to travelers through services like Airbnb or VRBO. Because the ADUs are separate from the main house, the homeowners can maintain their privacy and security.
Affordable housing: One unit could serve as an inexpensive apartment-substitute for a single person who would rather spend their disposable income on travel or hobbies instead of housing. A fleet of these ADUs may end up becoming an economical community-based solution for people transitioning out of homelessness.
Addaspace ADUs can also be moved if a homeowner later chooses to do so. The structures don't require concrete-pad foundations or trenches. This flexible design means that if the ADU is moved, its former ground space is ready to be used for another purpose. And when any new project gets underway, Pella is ready to provide custom windows and doors that match the client's vision.
Explore What Pella Has to Offer