Pella® Impervia® Fiberglass Awning Window
$$-$$$
Pella Impervia fiberglass awning windows are made from the strongest material for windows, engineered for lasting durability.61 Awning windows are hinged at the top and vent open from the bottom. Our revolutionary Easy-Slide Operator allows you to open and close your windows by sliding the operator side to side, without a crank. The simple, revolutionary design means you'll never have to endure a window crank again. With a timeless design and simple features and options, Pella Impervia awning windows complement any style of home.
Impervia Awning Window Features
Why Fiberglass?
Superior strength with our proprietary fiberglass material61
Rot- and corrosion-free
Tested for the extremes and suitable for all climates
Heavy-duty powder-coat finish, including Black
Enhancements
Optional triple-pane glass and insulating foam for increased energy efficiency
Corner locks, metal fasteners and injected sealant for added strength, durability and reliable water performance
Patent-pending Easy-Slide Operator hardware, designed for inclusivity and winner of the 2021 IBS Best in Show award
Matching fixed and operable styles available for larger window combinations
Browse Other Impervia Windows
Inside Pella Fiberglass
Pella Impervia windows are created from our exclusive fiberglass formula. A structural mat places rovings in a specific, intricate order to meet our high strength standards. Additional layers of strategically placed rovings are added, then the materials are pulled through a machine, injected with polymer resin and heated. It creates an entirely new, thermoset material which won't break down when exposed to the elements or lose its shape in extreme heat — unlike other materials.
Learn About Performance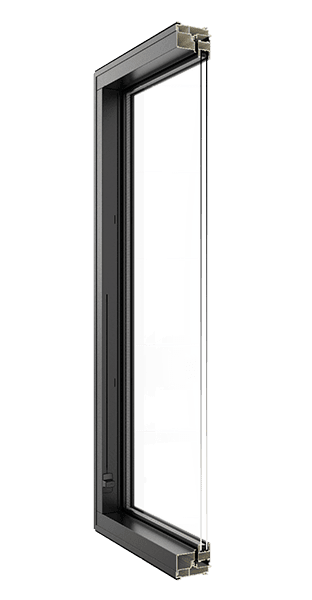 For the Pros
Pella Impervia Awning Window Specs & Install Details
Delivering unmatched strength and lasting durability with proven performance and sleek style
Tested from -40ºF to 180ºF to endure extreme weather conditions
Operable awning windows available in sizes up to 59-1/2" x 59-1/2"
Fixed awning windows available in sizes up to 71-1/2" x 79-1/2"
Performance class and grade LC50
Request a Project Quote
Awards and Certifications
Options for Pella Impervia Awning Windows
---
Choosing Your Window
---
Combinations
Make a design statement with window combinations. Additional combinations are available. See your Pella sales representative for the complete offering.
For Pros
Combination Design Considerations
Factory-mulled combinations help save you time on the jobsite. The superior strength of Pella's fiberglass allows you to combine standard and special-sized windows together to create larger, unique combinations, made just for your remodel or new construction project.
Integral mullion, tight mullion, 1/2" structural mullion or 1" structural mullion with additional steel reinforcements.
Residential and light commercial solutions that meet design pressure requirements up to DP50.
Meet or exceed structural framing requirements of the International Building Code section 2403.3.
Solutions available based on project classification, including structural framing requirements.

Black
For Pros
Materials
Pella Impervia products are made from our proprietary fiberglass material, the strongest material for windows, engineered for lasting durability.61
Our long-lasting powder-coat finish meets AAMA 624, which is a highly-rated fiberglass coating.
Exclusive thermoset material won't expand, warp or sag in summer heat, or shrink and turn brittle in harsh winter conditions.
Styling Your Window
---
Hardware
The Easy-Slide Operator is a revolutionary way to operate your casement and awning windows. Simply slide to open and close, without the effort of cranking. Or select the fold-away crank, that folds away neatly against the window frame. Both solutions allow roomside window treatments to hang neatly in your room.

Black
Grille Patterns
Grilles give the appearance of individual window panes. Pella offers many grille patterns to help enhance your home's architectural style.

Prairie

3/4" Grilles-Between-the-Glass
Window Enhancements
---
Screens
Flat Screens
Conventional fiberglass screens come standard.
Pella InView™ screens let in 14% more light and are 8% more open for improved airflow compared to conventional fiberglass screens.5
Explore Other Window Product Lines