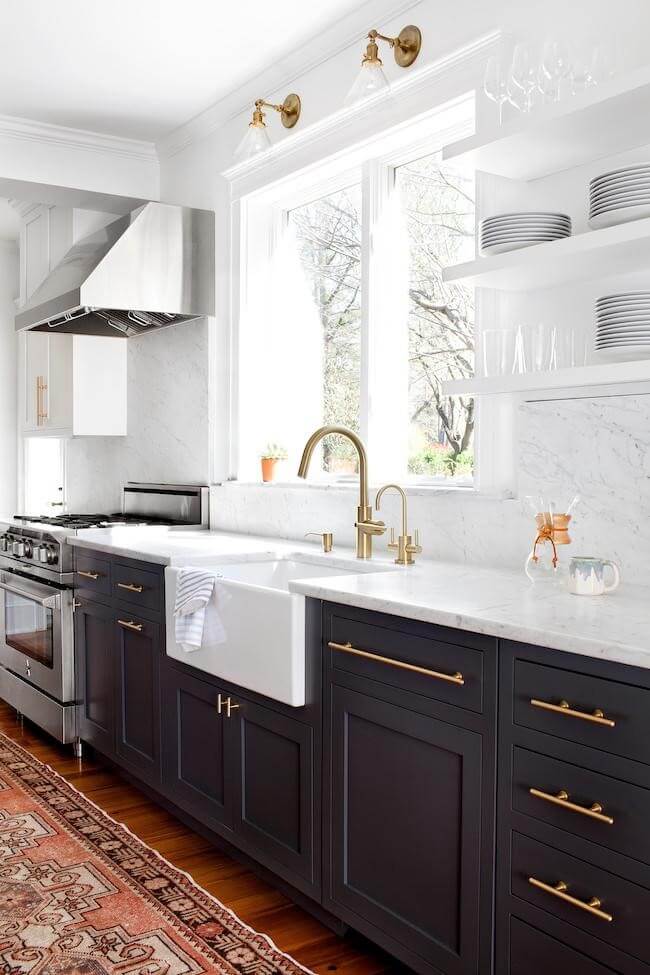 Elizabeth Lawson's Design Tips for Refined Modern Spaces
Elizabeth Lawson is a Maryland-based professional home designer who can help you bring a modern look and feel to even the most traditional of spaces in your home.
---
Who do you look to for inspiration? Home designer Elizabeth Lawson is one example of a professional willing to offer up her knowledge to help you create the design of your dreams.
Home Design Tips from Elizabeth Lawson
We love to highlight distinctive home designers who inspire us to find beauty in the details and embrace our home's authentic style. We're chatting with Elizabeth Lawson of the Maryland-based firm, Elizabeth Lawson Design.
Since starting her own company in 2012, Lawson's work has been featured on Domino Magazine's website, as well as One Kings Lane, Houzz and more. As a professional in the industry, she has a wealth of knowledge and experience to share with you.
Defining Your Home Design Style
When asked to describe her design style, Lawson hesitated to put a label on it.
"I always find this to be such a tough question because I don't like to limit myself to a certain style, but rather design with pieces that I love that also reflect my client's taste, which ultimately end up working with my aesthetic. If I had to choose a term, I would call my style, 'refined modern.' I love clean lines and interiors that aren't 'fussy.' People often mistake our firm as being on the West Coast, as we have a bit of a California vibe."
Although it is often referenced interchangeably with "contemporary style," modern style is actually rooted in a design movement dating back to the turn of the 20th century. Modern style homes will frequently incorporate natural materials, neutral colors and minimalist details. Embracing the idea that form follows function every, every modern-style furnishing and piece of décor should have a practical purpose, and the design should reflect that.
Where to Look for Design Inspiration
Inspiration can be hard to come by. Not everyone has the imagination to simply conjure up their dream home from scratch. As someone who is a professional designer, Lawson was willing to share with us where she looks for inspiration she can apply to her clients' homes.
"Gosh, everything can inspire me," Lawson exclaimed.
"I've always had a love for print media and devour fashion and home magazines. My eye constantly searches out color combinations, most often found in nature. I'm also always inspired by other designers. Instagram and Pinterest are my life sources!"

Hardware and Finishes Can Enhance Your Home Design
There comes a point where every homeowner fears that the style of their home has stagnated. Perhaps they've simply become bored with it. But what can you do to breathe fresh life into your home? Lawson suggests that enhancing your style starts with the details.
"I think small details are often overlooked," Lawson explained. "Hardware and finishes are so important in making a home feel updated and cohesive. Making sure your finishes are consistent and work together is key. I'm also a huge believer in buying things you love and not worrying too much about trends. I hope my designs reflect that. The same goes for my own home, which is always a work in progress, since deciding on pieces for myself is nearly impossible!"
Never underestimate the impact of hardware and finishes. Pella offers a wide variety of decorator finishes to coordinate with other decorative metals in your home – such as light fixtures and cabinet hardware. From windows to patio doors, the small touches can make a big difference.
Bringing a Modern Touch to Older Homes
There are few better feelings than seeing the fruits of your labor. The same holds true for Lawson when she has completed a redesign and gets to see the new look in full. One of her most recent renovation projects was particularly rewarding for the designer.
"We just completed a renovation of an older home in a historic Baltimore neighborhood," Lawson said. "The house has amazing bones, but our clients lean more modern in taste. I love the juxtaposition of the older millwork and details with modern furnishings and fixtures.
"I think we struck a nice balance between meeting the client's needs while still giving a nod to the traditional sensibility of the home."

Modern spaces are more popular than ever. With less clutter, a modern home becomes a space where you can relax and unwind. But as Lawson makes clear, you don't have to have a modern home in order to create one for yourself. If you love the modern design aesthetic but your home leans more traditional, don't worry. By introducing some of the key tenets of modern spaces, you can achieve the streamlined look and feel you desire for your home.
Thinking about updating your home to better reflect your style? Connect with a local Pella representative who will be happy to discuss your replacement window and patio door options with you.
Window Features & Options
OTHER PRODUCTS YOU MIGHT LIKE