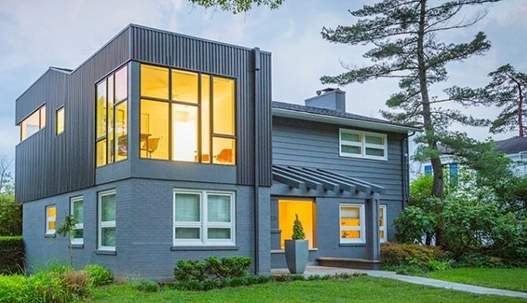 Stunning Upstairs Addition to Modern Cincinnati Home
Beautiful wood windows invite the outdoors into this second-story addition.
---
Project Details
Type:

Remodel

Location:

Cincinnati, OH

Area of Structure Involved:

Upstairs Addition

Products Used:
In need of more living space, the owners of this 2018 award-winning Cincinnati home opted for a second-story addition. During the design process, they selected clean-lined, black wood windows to complement their contemporary vision. The black exterior aluminum cladding provides sleek contrast to the gray exterior of their home. Their light-colored interiors blend with the white walls and provide unobstructed sightlines.

The sprawling addition includes a bathroom, office, living room, dining room and kitchen. Expansive glass lets in an abundance of natural light, making the rooms feel larger and more open. In the bathroom, the large and minimalist fixed windows and sliding patio door complement the light wood and white finishes. Placed high on the wall above the bathtub, these fixed and awning windows contribute to the calm, uncluttered feel of this bathroom. They allow in natural light but maintain maximum privacy in the modern bathroom.


In the home office, the homeowners selected large wood windows to create walls of glass. We love the look of the mid-century modern furniture paired with sleek white wood windows. The light, contemporary design of the room lets the windows make a grand statement.

In the open-concept kitchen and dining room, dark cabinetry creates a bold contrast from the white windows, walls and countertops. Bronze hardware fixtures bring a pop of color into the space. The sleek sliding patio doors help to expand the living and entertaining space for these homeowners. Opening up to a large patio, we can imagine family and friends enjoying the space during the holidays and dinner parties.


Expansive wood windows with large glass panes allow nature to become part of this home's décor. The Cincinnati homeowners can use this space to curl up by the fireplace or as an extension of living space when hosting events with friends and family.

This modern home addition has created a space that can only be described as stunning. By choosing our most customizable material, the owners of this Cincinnati home were able to turn their vision into a reality with the windows in their home. With sleek lines and minimalist finishes, the homeowners are able to enjoy an uncluttered space to relax at the end of every day. See more details from the local Cincinnati showroom.


Window Features & Options
EXPLORE WHAT PELLA HAS TO OFFER