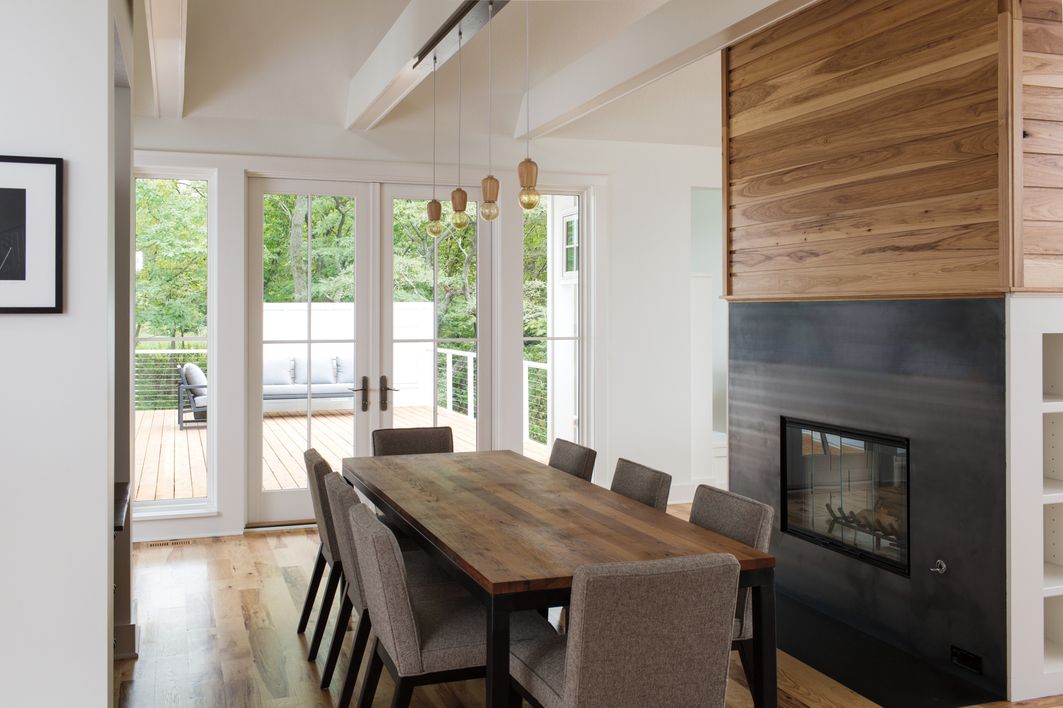 The Hottest Fireplace Design Ideas
Fireplaces can bring warmth and sophistication to any space. Finding the right fireplace for your home means finding the fireplace that best complements or enhances your home's design.
---
No matter where you have them installed, fireplaces can become the focal point of any room. So whether you are replacing an old fireplace or installing a new one, there are a number of important factors to consider as you determine what type of fireplace best fits your home.
Crank Your Interior Design Up a Notch with a New Fireplace
When the winter season begins to take hold and the temperature outside starts to drop, what sounds better than cozying up next to the fireplace with a cup of coffee or hot cocoa? Simply relax or even read from the pages of a good book while listening to the sound of a gently crackling fire. Beyond creating a cozy ambience, a fireplace brings a charm all its own to a home.
From traditional sophistication to modern luxury, these fireplace design ideas will have you considering a new or replacement fireplace before the next winter rolls around.

Classic Beauty of a Fireplace
In a traditional home, you want a fireplace to exude sophistication and simplicity. Traditional-style fireplaces have a broad appeal because of their charming and elegant details. Marble fireplaces, in particular, lend a natural beauty and warmth to your home. They possess an undeniable visual appeal and the beautiful features necessary to achieve the sophisticated feel you desire.
Take for example this minimal, white marble fireplace, which adds an elegant touch to the already cozy setting of this classic living room. Floor-to-ceiling vinyl single-hung windows with traditional grilles-between-the-glass complement the room's traditional design.

Brick Fireplace with Rustic Charm
Brick fireplaces are a timeless choice. They have long maintained their popularity by adding a homey yet sophisticated touch to any room. With the right design elements, a mantel to match the room's style and some décor, a brick fireplace can serve as an amazing focal point.
The brick wood-burning fireplace pictured above adds countryside charm to this modern farmhouse living room. The chandelier and wood mantel complete the rustic look, making this room a great place to gather and relax.
White, black, and natural woods are an essential element of the farmhouse aesthetic, and the two black double-hung windows themselves are crisp and clean. They contribute to the timeless and sophisticated look of the interior.
Window treatments are also an important consideration. There is an opportunity to add a touch of old-fashioned charm with your window treatments, if you're willing to venture off the beaten bath. Burlap valance curtains and rustic white window shutters are a couple of alternatives depending on your home's unique style.

Stone Fireplaces Offer a Warm Welcome
If you want to heat up a room in more ways than one, look no further than a stone fireplace. Natural stone fireplaces are frequently used to create warm and inviting spaces for gathering and entertaining. A stone fireplace can help enhance your home's design aesthetic.
On this four seasons room, a stone fireplace complements the warm décor of the home's exterior patio space. The wood planked ceiling fits right at home with the earthy color of the stone fireplace, as the wall of glass made up of custom picture windows offers a picturesque view of the outdoors.

Finding a Farmhouse-Style Fireplace
Not only are brick fireplaces durable, but they can also work exceptionally well with neutral colors, minimalist aesthetics and farmhouse chic. Brick painted in a darker color is an ideal fit for farmhouse décor, maintaining the shape and texture of brick while showcasing a classic look that fits well within the farmhouse aesthetic.
Farmhouse style double-hung windows with black frames flank the gray painted brick fireplace pictured above, lending a touch of chic adornment to the space.

Contemporary Fireplaces for Upscale Living
Contemporary fireplaces are popular for their current, clean and uncluttered look. Considering that everything in a contemporary-style space needs to work in concert, from shape to color to texture, your contemporary fireplace must complement the elements around it.
This sleek fireplace is a perfect example, uniting both the contemporary and glamorous aspects of the home's upscale living room. Brown leather couches, suede lounge chairs and a wall of black patio doors add to the posh vibe.

Fireplaces for Style and Separation
Innovations in fireplace design have reached the point where they no longer need to be installed in an exterior wall for ventilation. If you so choose, you can have your fireplace partially or even fully detached from the wall. This is an especially appealing option for homeowners who are looking to delineate the space in an oversized room.
In the home above, the two-toned fireplace wall creates a beautiful divide between the home's open floor plan, which includes a dining room, as well as a sitting and living room. A rectangle quatrefoil mirror adds an elegant touch to the sophisticated décor. The classic, white French doors flanked by large picture windows serve as the focal point of the space, functioning as an aesthetically interesting design element that also lends a pleasing sense of charm to the rest of the room.
Choosing the right fireplace for your home can be difficult. There are a host of factors to consider, including the age of your home, the space you have with which to work, and your personal taste. There is no one perfect fireplace for every room, but there are design decisions to be made. Fortunately, there are a variety of different options from which to choose.
Window Features & Options
Other Products You Might Like