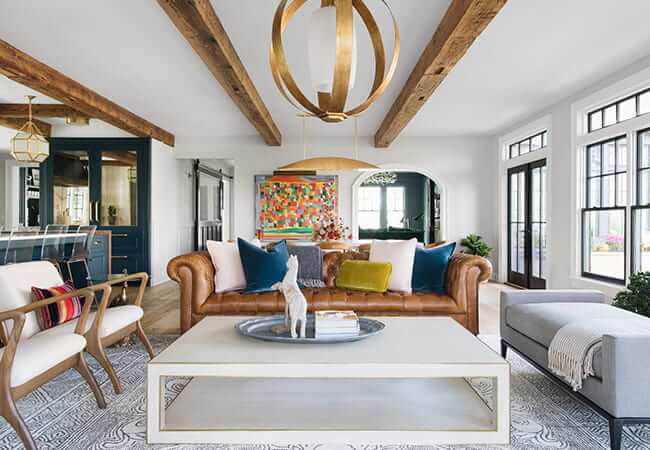 5 Living Room Ideas You Won't Want to Miss
Is your home's hub in need of a modern splash? Dive into these five living room ideas for inspiration.
---
A multipurpose space often in a central location, your living room's design can reverberate throughout the entirety of your home, serving as an important point for window consideration. These contemporary living room ideas cover bohemian, modern and farmhouse looks, but, regardless of your favorite, each idea can help foster a contemporary living room that'll surprise and delight.
Friendly Farmhouse Living Room

Farmhouse living rooms balance old and new, making for a living room style that's equal parts cozy and contemporary. Living room windows play a key role in creating a farmhouse feel through their shape, size and grille patterns. Mike Stevens' Homes decided to focus on natural light when selecting window types for this open space, coupling low-level double-hung windows with a trio of horizontal fixed windows close to the living room's high ceiling.
Double-hung windows are versatile, making them a great choice for a space that blends classic and contemporary elements. Farmhouse living rooms frequently highlight rustic attributes and Architect Series® double-hung windows, which boast eye-catching, handsomely crafted wood, could be the perfect choice for this design style.
This living room's sliding patio door complements the room's dynamic aesthetics with minimalist hardware and a contemporary design. Pella® Impervia® sliding fiberglass patio doors deliver unmatched strength and lasting durability with proven performance and sleek, timeless style.16
More windows bring more light, but, if you've reached your budget or have run out of living room wall space, white window frames can make a room appear brighter. Pella's factory prefinished paint colors save time and finishing costs, providing you with a high-quality finish without any extra hassle.
White Window Grilles Add Contemporary Flair

Bohemian style embraces the uncommon, allowing you to indulge in your eccentric side, basking in unusual, carefree aesthetics. Lucy Penfield created this engaging living room that fuses bohemian and contemporary living room ideas. Central to this unique, hybrid style are the horizontal lines created by the white window grilles, couch and artwork. Available in a variety of patterns to complement your home's architectural style, Pella grille patterns can also make window cleaning simpler. Grilles between-the-glass are permanently sealed between glass panes, creating a smooth glass surface that makes cleaning convenient.
In this room, casement windows allow sunlight to stream into the room. Because casement windows are hinged at the sides and swing outward, they provide excellent ventilation. They are a clean, sleek focal point for this living room.
Perfect for reading, working or kicking back and absorbing nature, picking the right living room décor can give an otherwise neutral room a natural, warm touch. In this space, a tan Roman shade, orange chunky loop area rug, wooden table and tropical house plant provide the contemporary living room with a homey feel. Combined with the living room window choices, it's clear that this room has more than a little personality.
Captivating Casement Windows

Different living room color ideas can have a tremendous impact on the way your living space is perceived. This room's gray, black and white color scheme might edge towards being cold but combined with the mustard yellow hues on the throw pillows, artwork and fireplace flames, the result is a warm, contemporary living room.
That contemporary living room design is accentuated with clean lines provided by the expansive casement windows. If desired, Pella casement windows can be combined to add more character to your home's design. For an even more contemporary look, a transom over 3-panel-wide casement windows allow for extra traces of light to filter into your living room space.
A touch of classic character is always in style, even in a modern living room. The right living room furniture sets can increase warmth in a room without sacrificing modern style completely. Incorporating a button-tufted sofa into your floor plan adds a hint of vintage charm without being overwhelmingly old-fashioned.
Stylish Sliding Patio Doors

Living room ideas that lend themselves to modern style tend to be both beautiful and functional. Architect Series® wood sliding patio doors are available with minimalist hardware, boasting modern finishes that'll heighten the contemporary elegance of your modern living room. For extra personality, consider selecting hardware options from the Baldwin Reserve™ Modern Collection. Available in satin nickel, chrome, polished nickel and matte black, the right hardware might just elevate your living room even more.
Along with sliding glass doors, Castle Homes designed this living room to include rectangular skylights, a wooden ceiling and built-in storage. A functional living room furniture set pulls the space together.
Should you decide built-in storage is right for your contemporary living room, right or left of the fireplace is a popular choice. Some modern living rooms feature entire walls dedicated to storage nooks. Perfect for books, candles, family pictures and statement décor pieces, built-in storage helps create a functional, contemporary living room.
Custom & Contemporary Living Room Design

Stately and contemporary, Jean Stoffer's living room design is one-of-a-kind. Paired with exposed wooden ceiling beams, the contemporary black hinged patio doors create a sense of elegant movement that makes the living room feel grand and spacious.
Along with hinged patio doors, Stoffer formed stunning living room décor by choosing a button-tufted sofa and a crisp, abstract rug that anchors the contemporary space.
Whether you want to blend modern living room ideas with farmhouse living room elements, or bohemian style with classic, the right windows and doors can go a long way towards creating your ideal space. With the assistance of the experts at Pella, you can select the perfect window or patio door to complement the style of your living room
Explore What Pella Has to Offer