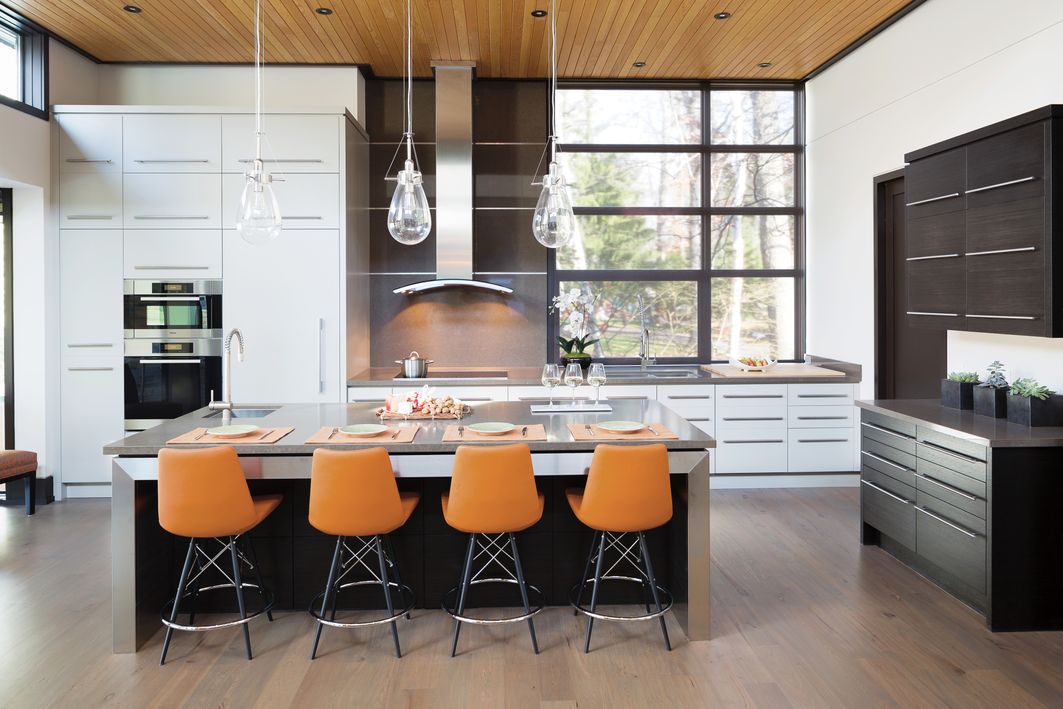 Master the Look of Two-Toned Kitchen Cabinets
See why the two-toned kitchen cabinet is a popular trend and learn to execute it in your own home.
---
As one of the most loved and used rooms of any home, it's worth investing in the aesthetics of your kitchen. Today, we want to take you on a deep dive into the latest kitchen design obsession: two-toned kitchen cabinets. Read on for inspiring looks that will convince you to rethink your ideal kitchen design and color scheme.
Two-Toned Kitchen Cabinets: A Look to Love
The popularity of two-toned cabinets is on the rise, and it's easy to see why. Selecting a second color for your cabinets allows you to mix in the tones and textures you desire while still maintaining many of the elements of the ever-popular white kitchen. Whether the difference between your cabinet colors and finishes is soft and subtle or graphic and high-contrast, read on for ideas on how to artfully deploy this trend in your own kitchen.

Organic Elements Create Contrast
A beautiful, contrasting cabinet look can be created without a single brushstroke of paint. Earthy, natural tones paired with cool whites and crisp black window frames provide a modern, clean aesthetic with plenty of contrast. A combination of fixed, casement and transom windows ensure there is plenty of natural light in this kitchen. The wood brings in a warmth to the cool modern juxtaposition of black and white. Leather chairs add texture while matching the tone of the wood and the matte black industrial light fixtures play up the modern black window frames. If you want a more sleek and modern look, glass and aluminum accents can help you accomplish that.
Whatever materials you choose, make sure they complement your interior window frame and trim style. For example, if you want to complement your modern window frame and trim, choose materials that are sleek and on trend such as dark wood, glass and white or black laminate. Traditional window finishes and colors, such as dark mahogany, pair well with warmer wood tones and white laminate cabinets. By choosing complementary materials, you will end up with a truly cohesive and balanced design.

Focus on Your Flooring
When using wood elements, many modern interior designers opt for darker cabinets to help create a solid focal point for the room. A good rule of thumb for planning your kitchen redesign is to order your new cabinets at least three shades darker than your flooring. If your floors are dark to start with, consider going three shades lighter to achieve the contrast you desire.
In the kitchen above, notice how the two-toned cabinetry complement the dark hardwood flooring. The rustic wood grain plays well against the cool marble counters, while the stainless steel appliances and faucet plays well with the brass cabinet hardware and lighting. The row of casement windows over the sink allows light to stream in from multiple angles throughout the day, so it can naturally illuminate the metal hardware. As a bonus, a wall of windows not only allow the light to filter in, but create a wider expanse for you to survey your yard and keep an eye on children or pets outside.

Small Highlights Create Big Contrasts
For a bold and dramatic look, consider making just a small section of your cabinets a different color. We love the contrast created by this black-and-white cabinet combo. The cabinets on the island base are black, while a small section of upper and lower cabinets in a soft white add contrast and echo the pristine color of the island countertop.
The Euro-front laminate cabinets, modern globe lighting and minimalist hardware selections work beautifully together with the contemporary picture window to accomplish a dreamy modern kitchen design. Natural accents, like the wood shelving and bonsai trees, keep the space from feeling stuffy or sterile.
To expand on the modern approach to this kitchen style and encourage natural light to enter, a combination of casement windows would also work well. Casement windows are easy to open to let in a breeze— especially in hard-to-reach spots — and can be customized with the perfect modern hardware so even the smallest details in your kitchen match your contemporary aesthetic.

Color Outside the Lines
While all white farmhouse-style kitchens are still very popular, bold hues are creeping back in. Consider incorporating some color in your kitchen by painting your island a subtle shade of blue, green, yellow or even gray. In the kitchen photo above, notice how the contrasting light and dark gray cabinets complement the blue walls and tall, black awning windows.
The space emits a true modern aesthetic and creates a feeling of openness, thanks to the tall black windows with sleek frames and expansive glass. The awning windows continue the panoramic view but offers the additional option for ventilation. A modern light fixture in an industrial finish matches the style of the kitchen while also adding a bit of edge. The stunning windows and two-tone cabinets in this space work together to create a beautiful and inviting kitchen.
Schedule a free in-home consultation with a Pella expert near you to discover how the right windows can complement your perfect kitchen design.
Window Features & Options
Other Products You Might Like