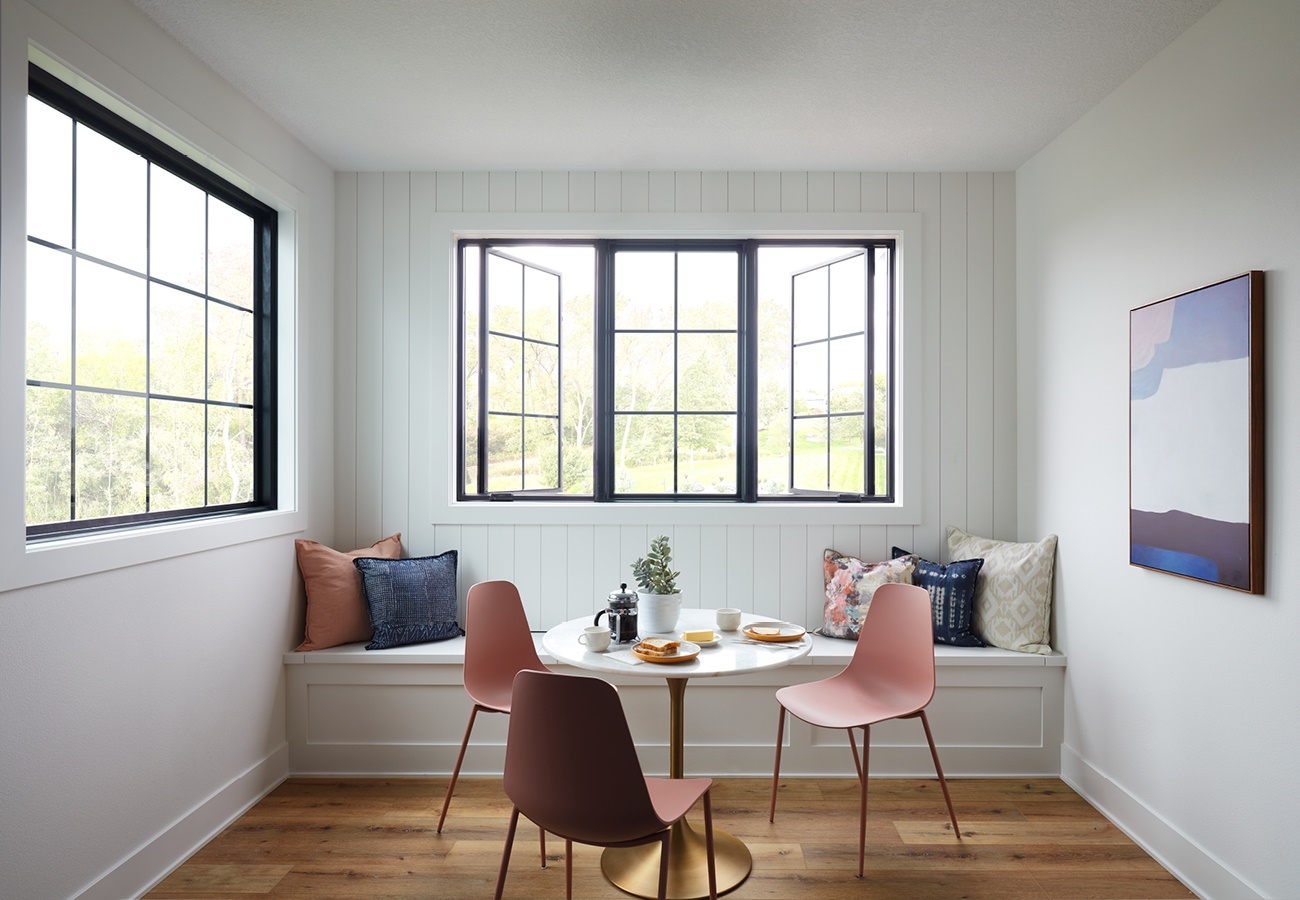 Clever Kitchen Seating Idea: Banquette Below Black Windows
A simple kitchen bench installed below stylish black windows from Pella turns a plain kitchen wall into banquette seating the whole family will love.
---
There's nothing quite as inviting as banquette seating, and you can add it to your home without spending a lot of money. Here, a plain wall becomes a favorite family hangout thanks to new black windows and grilles and a simple built-inch bench installed below them.
Windows over a banquette bring in natural light and make kitchen seating feel more open and inviting. To ensure a window-clad banquette stays comfortable no matter the weather outside (or the number of kids playing), choose windows that help make your home feel comfortable and quiet, such as these Pella Lifestyle Series casement windows. Pella Lifestyle Series casement windows open with the simple turn of a crank, and if you choose, can be fitted with integrated blinds or shades tucked between the panes of glass. Integrated window treatments are a perfect addition to an area of the home where lots of people gather, as they are protected from dust, spills, pets and little hands.
Banquette Window Placement
When installing windows above a built-in kitchen bench, you should have the windows installed at least 24 inches off the floor to allow for a seat height of 15 inches (and a few inches higher if you plan to add seat cushions). Ideally, you should also allow for a minimum of 27 inches of bench space for each person to sit, with the depth of the bench at 18 inches, not counting any back pillow.
Banquette Design Ideas
Why Choose Black Windows?
Why Install Wood Windows?

Mood Board Sources
Window Features & Options
OTHER PRODUCTS YOU MIGHT LIKE