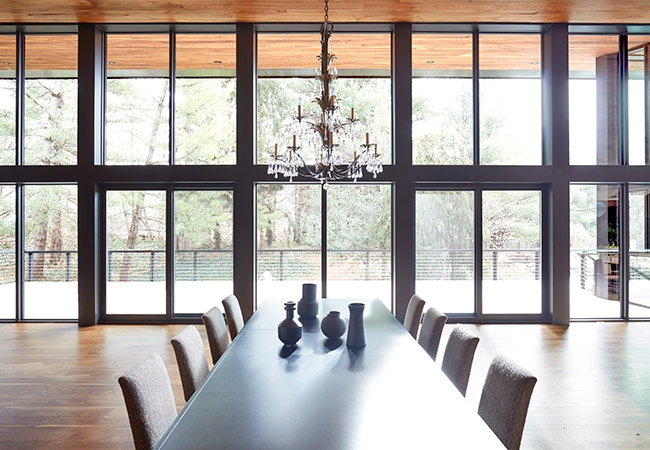 Our Favorite Dining Room Windows
Check out Pella's hand-picked dining room windows ideas and savor delicious meals in your dream dining room.
---
A warm, inviting dining room can help facilitate meaningful connections and memories, and the right windows can help your dining room become an inspired space. For our favorite dining room window ideas, keep reading, and you'll find some inspired designs from our very own Pella customers.

Black Window Frames Create Contrast
Form and function are important elements for a vibrant dining room. If your style is more adventurous than traditional, and you have ample space in your dining room, setting up a breakfast nook next to your windows can change the room's entire feel. Plus, you'll have an extra option for how you spend time in your dining room.
This beautifully designed contemporary space doubles as both a kitchen and dining nook. There's nothing better than appreciating good food in a beautiful space, so Alison Giese tactfully placed her dining nook double-hung window adjacent. Creating a dining nook requires the right combination of energy efficiency, beauty and durability. That's why opting for a double-hung window from the Pella® Lifestyle Series could be a great choice for your combination dining room. Boasting the flexibility only wood can offer, the dual-pane double-hung window also comes with the variety offered by Pella's InsulShield® glass collection. With the protection offered by Pella technology, whether you live out West or up North, your breakfast nook will be ready for whatever the climate may bring.
The room's marble backsplash, quartz table and wooden chairs provide a soft, natural feel. Adding a small touch of greenery, like the tree reaching over the dining room table, helps to create an inviting atmosphere. To provide a contrast to warm tones, consider a factory prefinished interior stain color like Black, Charcoal or Espresso on your windows. A darker hue combined with calming colors creates a sense of vitality and energy — perfect for when you're waking up bright and early, enjoying breakfast and sipping coffee.

Invite Natural Light with Dining Room Casement Window Combinations
Combining window types in the dining room is one way to create a dazzling space with an original sense of style and an enticing amount of natural light. An open-concept arrangement, this bold living and dining room unites double-hung windows and white casement windows with French patio doors to create a space swimming in sunshine and natural light.
For easy access to fresh air and natural light, casement windows are an excellent option. Easy to open and close with a simple handle turn, casement windows are hinged at the sides and swing outward to open. Thanks to their ease of use, Pella casement windows are outstanding options for difficult-to-reach spots.
With casement windows in your dining room, you can surround yourself with natural beauty while enjoying a meal in comfort. For exceptional performance and uncommon style consider Pella® 250 Series vinyl casement windows. With durable, strong frames and 11 exterior color options to boost your home's curb appeal, vinyl casement dining room windows can add character to your home and trim your energy costs.
Such a radiant room deserves furniture and décor to match. Pella customer Heart of the Home used a vintage rug, classic paisley pillows and upholstered dining room chairs to bring a level of sophistication to her dining room. Traditional window and door grilles reinforce the timeless style. If traditional grille styling isn't for you, our grille patterns are available in other options ranging from Victorian to New England styling to complement your home's unique aesthetic. And if our preset collection of grille patterns don't fit your needs, Pella can work with you to create a custom pattern.

Diamond Grille Designs for Transitional Dining
When choosing your dining room windows, you'll want to take time to consider your space, making sure to design a dining room that reflects your distinctive traits and tastes. That's why Pella is proud to offer one-of-a-kind windows and door options that can be custom built to your specifications. Want an intricate grille design? Unique shapes or sizes? Pella makes it all possible. In Lakewest Custom Homes' transitional dining room, they added custom diamond grille designs. The result? Windows that make a statement.
Movement also plays a pivotal role in this transitional dining room. Aided by the custom diamond window grilles, the crown molding enhances the room's sense of movement. Superb design starts with the little details.
Want to learn more about adding unique design elements to your dining room? Contact us today for a free in-home consultation.
Window Features & Options
Explore What Pella Has to Offer