Before
After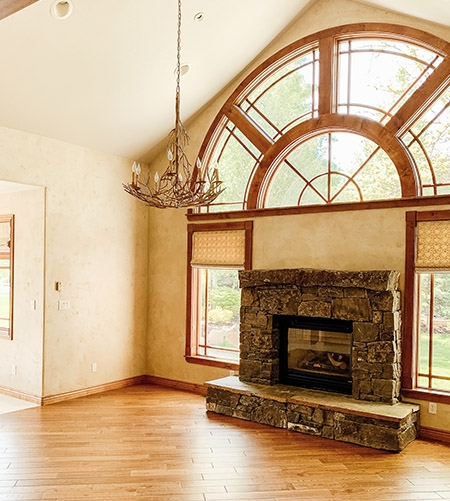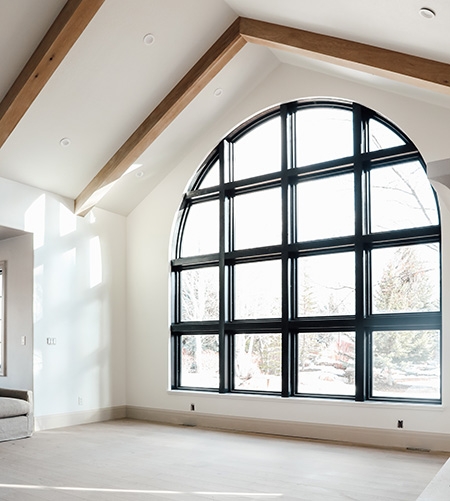 Before and After: Custom Arched Window Soars with Modern-Cottage Style
Inspired window design transforms a living room for the bloggers at Chris Loves Julia.
---
Project Details
Type:
Location:
Area of Structure Involved:
Products Used:
Products provided in partnership with Pella.
The original picture window was a bright '90s-era feature for this Idaho home. But its new owners – creators of the popular Chris Loves Julia renovation blog – envisioned a major upgrade. Their dream was to create a wall of glass windows unified in a single bold arch. Like many of Chris and Julia's projects, it would be a dramatic transformation.
Life in the house takes on a change of space.
After many meetings with their architects and contractors, the style savvy couple discovered that this would be no simple window replacement project. An entire wall of the living room would have to be replaced. This included removal of all three existing windows and trim, dismantling and relocating a built-in stone fireplace and moving the family out of the house so the crew could get to work!

Pella helps craft the dream.
Our local consultant and installers were there every step of the way. Once the design options were thoroughly explored, Chris and Julia chose contemporary Pella Architect Series wood windows. Designers drew up plans for a floor-to-ceiling wood frame that featured 16 individual windows. The wall-sized arch window would fill the living room with natural light and offer panoramic vistas of the backyard.
We also called for reinforcements.
The 13' x 13' arch had to be durable, stable and capable of withstanding the high winds common in the area. All beams were wrapped in 16-gauge, galvanized steel studs that spanned the height of the structure. Precise, consistent measurements ensured that every window frame allowed its glass to flex safely without breaking. The end result is an incredibly clean-lined design and a towering tribute to engineering.
Pure black is the color coup for this show-stopping Pella window.
Choosing a contemporary black finish helps bring this home's modern-cottage aesthetic to life. It provides crisp contrast to the light-colored walls and neutral wood floors and lends a touch of drama to the décor. For added protection on the outside these windows feature durable aluminum-clad exteriors with EnduraClad® finish, which comes standard and is available in 27 colors. There's no better way to ensure advanced protection from the elements and beauty that lasts.
Share your project ideas with us. You envision it; Pella will build it.
From graceful curves to contemporary angles, Pella custom windows offer virtually endless design possibilities in every size. Choose intricate grille patterns, artisanal glass options and more to create your own breathtaking before-and-after project. Reach out to your local Pella professional and explore.
Window Features & Options
OTHER PRODUCTS YOU MIGHT LIKE