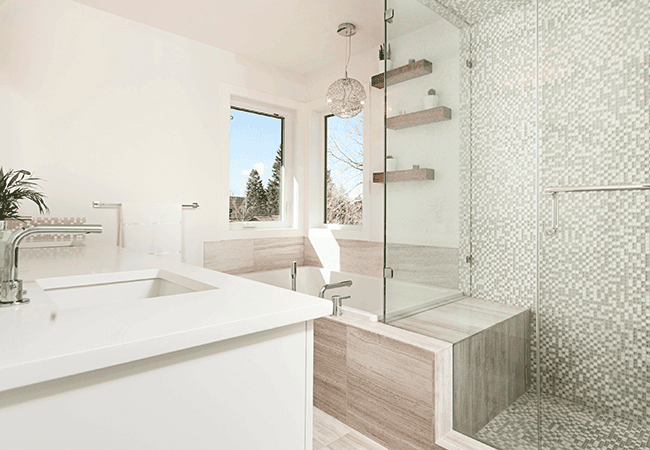 4 Modern White Bathrooms That'll Inspire
Far from plain, these four modern white bathrooms will inspire your design and bathroom window selection.
---
Highlighting a white hue in your bathroom can help you develop an architecturally captivating, modern space. Browse through our favorite modern white bathroom ideas to stir up some window inspiration.
All White Bathroom, Stunning Casement Windows

Window type, style and material are all important to consider when designing a sleek, modern bathroom. This contemporary bathroom built by Oakworth Homebuilders in Knoxville, Tennessee, accents subtle elegance with an abundance of natural light rushing into the room. To achieve this desirable degree of light, Pella casement windows can be a smart choice. Complete your modern bathroom design by choosing a white interior finish. If Pella's Bright White interior finish for wood windows is too stark for your taste, Linen White can be a calmer, warmer modern white bathroom option.
Carefully chosen to complement the light and window type, this bathroom's windows feature a traditional grille pattern. Nodding slightly to more traditional design elements when crafting your modern bathroom can be a good idea. With the right balance of contemporary and classic, you can have a modern bathroom that'll remain on-trend for years to come.
Trim options also go a long way when seeking to infuse a space with modern sensibility. Pella offers a wide variety of window and patio door trims to choose from. Each have four different styles and each style includes further personalization options, assuring your trim complements your modern bathroom style just the way you want it to. And if you prefer a more traditional look, our wood trims are available pre-finished with nine different stain options that range from Golden Oak to Wheat.
Soft, inviting and soothing, your calming modern bathroom can be made even better with marble floor tile. Illuminated by natural light sneaking through this white bathroom's casement windows, marble tile, and sleek freestanding tub, work towards creating a great minimalist bathroom.
Lift Up Your Modern Bathroom Design

The right finishing touches can turn a plain bathroom into the modern white bathroom you've always wanted. Double-hung windows are stylistically versatile, working well in both classic and contemporary bathrooms. Because they can be raised from the bottom or lowered from the top, double-hung windows provide two levels of ventilation to help alleviate bathroom humidity.
With sash lifts, raising and lowering your double-hung windows will be easy. Pella® 250 Series are made from an easy-care vinyl that delivers a premium look inside and out. These windows not only have an option for an integrated sash lift, but also feature an optional AutoLock that automatically locks the window when it's shut. With Pella windows, you'll find peace of mind, style and comfort in your modern bathroom.
The silhouette of sheer bathroom window curtains comes together with this bathroom's crystal cabinets to foster an airy atmosphere. If you're looking for an alternative option for standard curtains, Pella wood windows can be outfitted with integrated, between-the-glass window fashions.
Integrated shades have raise-and-lower functionality, so you won't have to spend time fiddling with difficult-to-use controls. Between-the-glass blinds offer another level of material protection and ease of use. Since they're tucked between the glass panes, the blinds are guarded from dust and damage. For windows in hard to reach places, control your blinds or shades with a remote using Insynctive, our smart home technology. With cordless operation, using the blinds will not only be easier, but safer — especially if you have young children or pets at home.
Bright Light White Bathroom Ideas

Imagine your modern bathroom. Imagine it's daring and bold, featuring black and white bathroom ideas. Or, visualize your bathroom as all white, peaceful and serene. The limitations of your imagination are virtually boundless, and Pella is here to help make your modern bathroom dreams come to life. No matter your style of choice, bright natural light can create a tranquil setting.
Joining windows together allows for more natural light and brings extra character to your home's design. This English Craftsman bathroom has bright light to spare due to a 3-wide window combination. Even for a 3-wide window combination, Pella's InsulShield glass collection offers energy-savings for whatever climate you call home.
Live in a northern U.S. city with icy air and frost-filled nights? Opting for a window in Pella Lifestyle Series will allow you to combine beauty and exceptional energy efficiency. With options that meet or exceed ENERGY STAR® guidelines, select AdvancedComfort Low-E insulating glass with Argon to keep warm all winter and cool throughout the summer.
To showcase your personal style and modern white bathroom even more, consider small touches like a simple wooden bath board. Matching double vanities can also create a modern atmosphere for your white bathroom. The vanities, and bathroom doors, also feature wainscoting which complements the simple cabinet pulls and knobs. When it comes to bathroom design, even the smallest details can make a big difference.
Horizontal Lines: A Modern Window Hallmark

Clear views provided by the two casement windows plus dynamic horizontal lines make this modern bathroom design visually appealing. The clean, modern finishes available on Architect Series® windows highlight other standout areas of this bathroom — the gray and white geometric shower tile and gray-brown vinyl tile flooring.
White modern bathrooms can certainly underline excellent design, but if you prefer a bit more of a graphic punch in your all-white space, Architect Series® comes in a variety of factory-prefinished stain and paint colors, including Black and Skyline Gray.
Timeless, modern bathroom ideas aren't necessarily easy to come by. But, with Pella by your side, you can craft the right bathroom to fit your style and tastes. Choosing the right windows will go a long way towards making your modern bathroom ideas a reality.
Window Features & Options
Explore What Pella Has to Offer