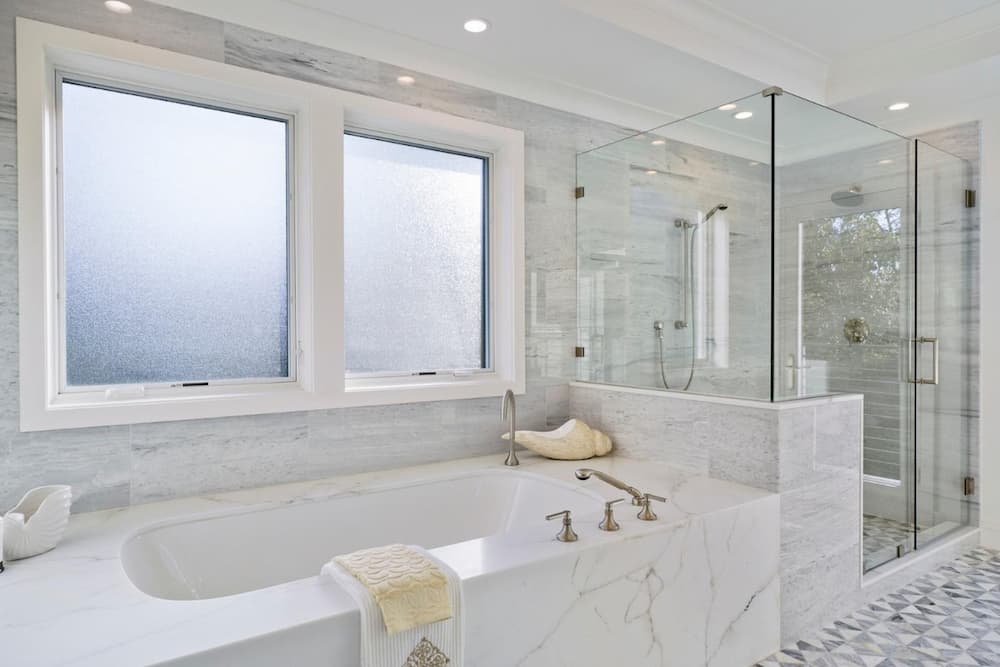 Fresh Ideas for Your Bathroom Remodel
If your restroom isn't feeling quite so restful, consider these bathroom upgrades.
---
Bathrooms are utilitarian spaces, sure, but they should also be a place where you don't mind getting ready. Privacy, lighting and ventilation are all important considerations when updating your bathroom, but you don't necessarily need to take on an entire renovation to get the spa-like space you're seeking. Below, six bathroom improvement ideas to turn up the rest factor in your restroom.
Improve Your Bathroom Design with these Ideas
So your bathroom could use a little help. But you have about as much time to spend shopping around for inspiration as you do between dinner and helping with homework — which is to say, not a lot. Don't worry. These savvy bathroom remodel ideas will net you some solid inspiration in less time than it takes the oven to heat.

Install a Soaking Tub
Looking to gain lots of shower power without gobbling up room in a snug bath? A freestanding soaking tub may be just the right remedy. Add symmetry and elegance to your bathroom when you situate a soaking tub directly beneath your bathroom windows, like the two casement windows shown above.
Done right, when you pair a smaller, space-efficient bathtub with a compact shower, it can actually save space. Plus, it will lend your room an opulent, spa-like feel — a must when your bathroom doubles as an escape from daily life.

Refresh Your Bathroom Windows
Windows are an essential part of a bathroom, providing ventilation and daylight, but sometimes in our quest for privacy bathroom windows don't get the attention they deserve. Incorporating some natural light really perks up an otherwise dark space — and there are more ways than you might think to let in the light and still maintain privacy. Adding French doors, windows with frosted glass panes behind a tub or set of windows above a vanity pumps up the drama in a master bath. Another great solution for privacy? Bathroom windows with built-in blinds. With our between-the-glass blinds and shades, privacy is integrated with your window, and shades are kept free from dust, allergens and moisture.
In addition to privacy, energy efficiency is an important factor for bathroom windows. Nothing ruins a warm shower or relaxing soak in the tub quite like a drafty window. Choosing a replacement window with double- or triple-pane glass will help keep your bathroom at a more consistent, comfortable temperature. Depending on where you live, further energy-efficient glass selections are also available to help block out intense heat or cold.
An awning window with Low-E glass placed higher up on the wall is an excellent energy-efficient bathroom window choice that also provides privacy and functionality. Plus, with a window placed up high you'll be left with precious wall space beneath that can be used for a towel bar or storage.
Double Shower Heads are Twice as Nice
What's better than one powerful showerhead? Why, two, of course, installed at opposite walls. If space in your bathroom allows, adding a second showerhead, whether one of the same or incorporating a rain shower or handheld sprayer can improve the functionality of your shower. And, if your bathroom doesn't allow for two showerheads, simply upgrading your existing showerhead is a quick swap that can improve your shower experience.
Create the Illusion of Space
Bathroom designers have their work cut out for them — in smaller spaces, transitions need be minimized to communicate a luxurious spaciousness. Hard lines and stopping points break up the eye and can make a space feel smaller, so don't cut your restroom tiling short just before the ceiling or at the foot of the shower door. Rather, continue the use of tile all the way up the wall or forward past the shower, creating the illusion of space. In the bathroom above, the tile continues right up to the edge of the window, helping to integrate it into the shower wall.

Consider a Custom Vanity
Modern bathroom vanities can be as personalized as you like, from floating modular cabinets to one-of-a-kind pieces honed from distressed wood or customized antique dressers. The right vanity can even serve as a statement piece for your upgraded bathroom, especially in a smaller space. A wall-mount faucet with recessed pipes will let you get creative with your design without providing a gaping view into your sink's inner workings.
In the beautiful master bathroom above, a custom vanity serves as a continuation of the room's color scheme. The light gray vanity cabinetry matches the stone backsplash while the countertop is the same dark and moody gray as the walls. The custom arched windows elevate the room's stunning design.

Open Up Bathroom Shelves
Thanks to the convergence of two separate trends — the rise of at-home spa-like luxuries and the decluttering movement — open shelves, particularly placed at the end of a tub and piled high with plush towels, have been popping up in bathroom remodels all over the place. With open shelving, there's no hiding behind closed cabinet doors, eliminating the potential for clutter. And, with fluffy towels just within arm's reach, a long soak in the tub sounds a whole lot more relaxing.
With just a few changes, you can turn your bathroom into the peaceful retreat you deserve.
Window Features & Options
Other Products You Might Like