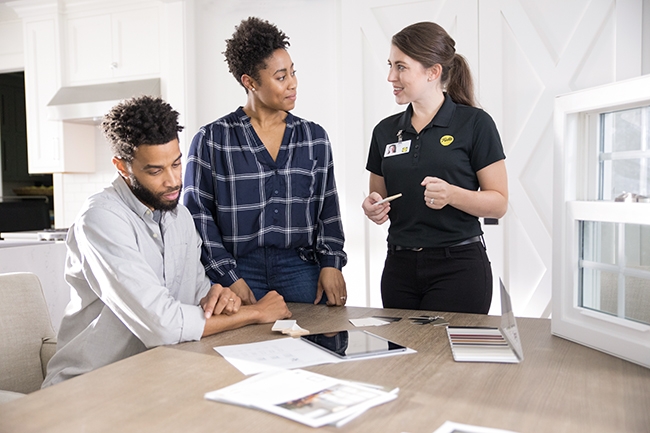 Shopping for New Windows? Follow these 5 Simple Steps
If you're thinking about new windows, but aren't sure where to start, follow these five simple steps to make a decision you'll feel great about.
---
We get it – buying new windows and doors isn't something you do every day. So, if this is your first time, you've come to the right place. We'll help guide you through the window buying process so you can make a decision you'll feel great about. From the initial shopping phase all the way past installation, the experts at Pella are here to provide useful tips and information and answer any questions you might have along the way. Let's get started.
5 Steps for Smart Window Shopping
A good window does more than fill a space with natural light and provide the opportunity for fresh air. The right windows can transform spaces in your home and moments in your life. Whether you're looking for replacement windows, remodeling a room or building your dream home from the ground up, here are five steps to help guide you toward the best choice for your home projects.

1. Gather Window Project Inspiration
Inspiration is everywhere. When gathering ideas for your new or replacement windows, visit sites like Houzz and Pinterest for photos, tips and advice that can help inspire your next great space. Exploring interior design and architectural accounts and hashtags on Instagram can yield abundant design inspiration as well. Take a look at local projects to see how other homeowners in your area are updating their windows. Create a collection of images that inspire you and reference them as you start shopping for your new dream windows.
2. Do Your Research
You'll be living with your windows every day, so it's worth your while to see the products you're installing in person. Stop by a home improvement store, your local Pella Experience Center or a home show in your town to see the different window styles and door styles up close. Touch and feel the products and really interact with them to get a feel for their functionality and ease of use. Is the window easy for you to open and close? Will it make sense in the spaces that you are updating? Take this time to ask representatives about the various window products and features that are available as well. Understanding the features and options available and determining what is important to you will help you when it comes to setting a budget.
3. Set a Budget
Window replacement projects are an investment that can have benefits like enhanced energy efficiency and increased home value. Window materials and the size and number of windows you are installing will all impact the cost of your project. Prioritizing the features and options that matter most to you can help narrow your search for the windows and doors that suit your budget. You may decide to install a few windows at a time or inquire with your window representative about any special financing offers or seasonal promotions that might be available.
Beginning Your Window Project
4. Work with a Window Expert
It always helps to talk things through with an expert. When you're ready, let the professionals come to you. Whether a home improvement store rep, independent contractor or Pella certified installer, a window expert works in the industry every day and will take into consideration your budget, the architectural style of your home and the region in which you live to advise you on the window types, materials, features and options that are best suited for you. Talking through your window project with an expert can help give you a more accurate estimate of cost and allows you to go over any remaining window replacement questions you might have.

5. Enjoy Peace of Mind
New windows and doors are one of the smartest investments you can make in your home. Once you've selected the windows that are right for your home, schedule your window installation with a certified professional to ensure proper installation. New and replacement windows can enhance your home for years to come. Once your window replacement project is complete, stop and appreciate the new energy efficiency, sound performance and comfortable living they bring.
Window Features & Options
Explore What Pella Has to Offer