Pella® Reserve™ – Traditional Commercial Entrance Door
$$$$-$$$$$
Traditional Pella Reserve commercial entrance doors are available in aluminum-clad wood options. Low-profile, ADA-compliant sills and 32" openings are standard on these doors, making them a smart decision for commercial properties. With putty glaze profiles, these entrance doors will be a high-performing complement to other design elements in the space.
Reserve - Traditional Commercial Entrance Door Features
Why Wood?
Natural beauty and warmth
Low-maintenance exterior aluminum cladding
Exclusive wood protection
Our most customizable material
Performance Enhancements
32" clear opening widths and low-profile, ADA compliant sills are standard
Putty Glaze grilles
Exceptional energy efficiency

Browse Pella Reserve - Traditional Patio Doors
Inside the Reserve Commercial Entrance Door
Pella Reserve commercial entrance doors are protected with our exclusive EnduraGuard® wood protection formula. This powerful combination, together with our immersion-treatment method, helps ensure strong protection on every wood surface of our products. The result is advanced protection against the effects of moisture, decay and stains from mold and mildew.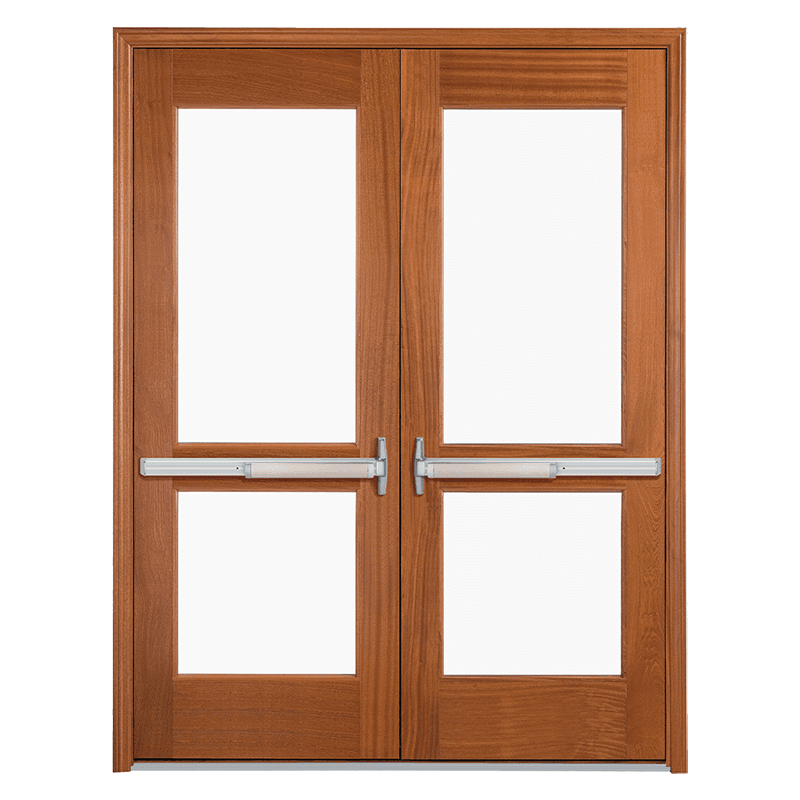 For the Pros
Reserve – Traditional Commercial Entrance Door Specs & Install Details
Uncompromised attention to detail with historic putty profiles, through-stile construction and deliberate proportions
Single doors available in sizes from 24" x 80" to 38" x 96"
Double doors available in sizes from 48" x 80" by 74" x 96"
Available with transoms or sidelights for unique combinations
Request a Project Quote
Options for Pella Reserve - Traditional Commercial Entrance Doors
---
Styling Your Door
---
Hardware
These doors are supplied without hardware to accommodate various hardware needs driven by local code requirements and architectural specifications.
For Pros
Hardware
Guidelines for selecting hardware from your supplier:
Mortise locks - Maximum mortise route dimensions are shown below for doors with standard stile dimensions. Maximum height of the mortise route is 10". Routes should be sealed before the locks are installed for added moisture protection.
Cylinder locks - Maximum diameter of bore is 2-1/8". Minimum backset is 2-3/8"; maximum is 2-3/4".

Door closers - Surface-applied door closers with mounting devices that anchor into the structural header of the rough opening are recommended. Devices that anchor to the door frame only are not approved for use on Pella doors. Concealed closers that are routed into the top of the door panel are not recommended.
Exit devices - Surface-mounted vertical rod hardware is recommended. Concealed vertical rod hardware is not recommended.
Kick plates and push plates - Recommended to protect the finish.
Sill and hinge finishes - Mill and Bronze sill finishes. Hinge will complement the sill finish.

Ball-bearing hinges - Three hinges on doors with a frame height of 6'10" or less. Four hinges on doors over 6' 10" frame height up to and including 8' 0" frame height.


Top Row
Grille Profile
For the classic look of individual windowpanes, choose grilles-between-the-glass, removable roomside wood grilles and Integral Light Technology Grilles.

7/8" Ogee Integral Light Technology
For Pros
Grille Profiles
Integral Light Technology® (ILT) Grilles - Combine the historical look of true divided lights with today's energy efficiency, structural integrity and water-resistant performance. Grilles are adhered to the outside of the glass – wood on the interior and aluminum on the exterior. Between-the-glass nonglare spacers, which are aligned with the interior and exterior grilles, replicate the appearance of true divided lights. Grilles have been approved by the National Park Service on a project-by-project basis for use on historic projects involving federal tax credits.
Grilles-between-the-glass - Permanent aluminum grilles are factory-installed inside the airspace of insulating glass to provide the look of divided lights while making glass cleaning easy. Exterior finish matches aluminum-cladding color.
Removable interior grilles - Roomside wood interior grilles are securely attached to the interior, but can be removed for glass cleaning. Available prefinished to match the interior wood finish and exterior cladding, and in two standard and custom widths.

Integral Light Technology® Grilles

Grilles-between-the-glass

Removable Grilles
Explore Other Patio Door Product Lines