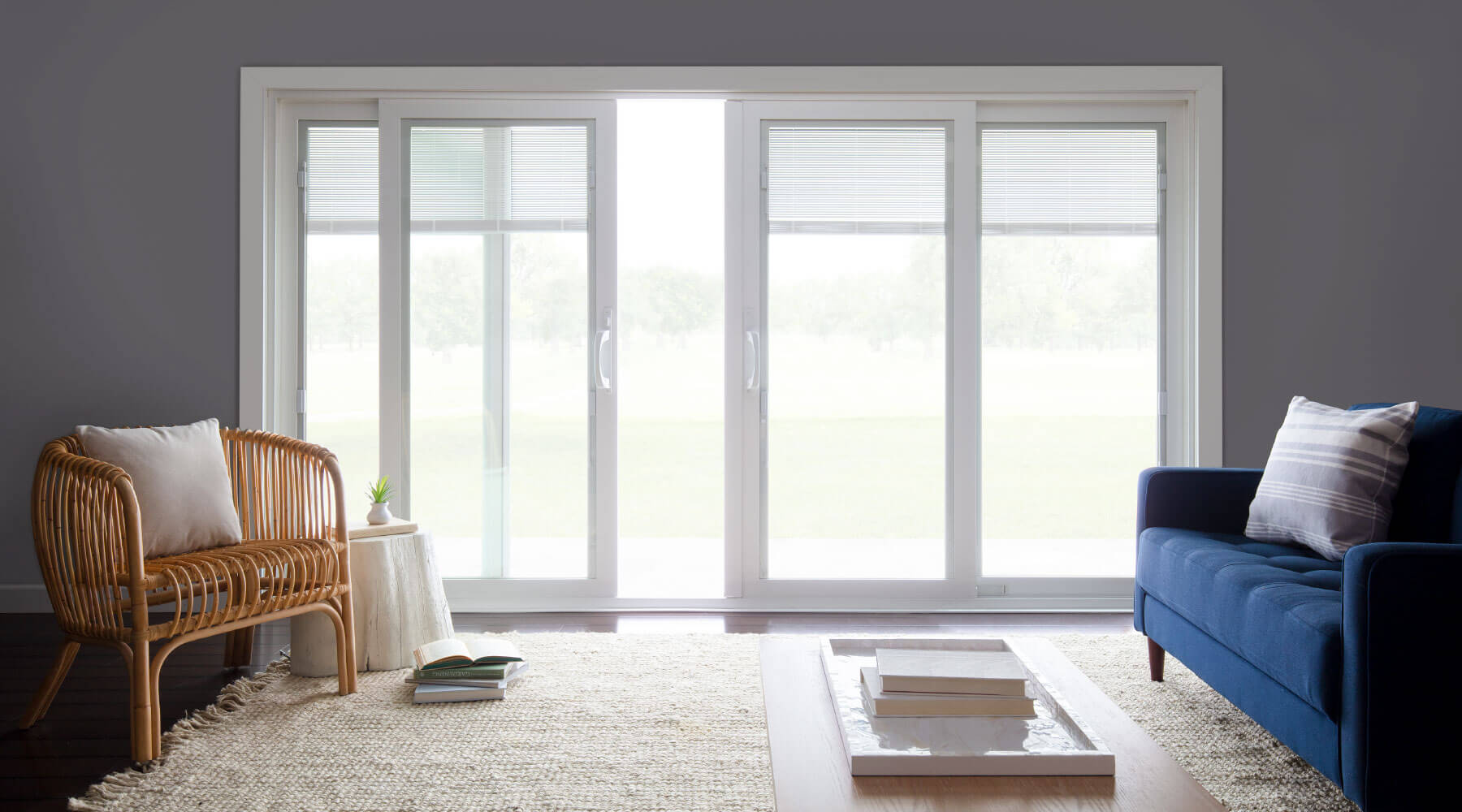 Replacement Patio Door Options
Take the guesswork out of installing your replacement patio door by understanding what options are available. Whether you use a professional or DIY your home patio door remodel, we'll walk you through the information you need to know to make the best choice for you.
---
Proper patio door installation will help you get the most from your replacement patio door. The benefits of proper installation include improved comfort, energy savings, noise reduction and increased security. Working with a professional installer will ensure you get all these benefits and more from your patio door.
What to Know About Patio Door Installation Methods
Choosing to replace your patio door is an easy way to transform your existing space. Whether you're looking to let more light in or completely change the existing style of a patio door, Pella provides the options to make sure the installation process is hassle-free for you as a homeowner. The type of project you're completing will help to determine which options are best for you.
When the time comes to install your replacement patio door, there are two different installation methods, pocket and full-frame installation.

Pocket Installation
If you're upgrading your existing patio door with one of the same size or type, your installer will likely recommend pocket installation. With this installation method, the new patio door slides into the existing frame with little muss or fuss. Professional installers can typically get this installation done within an hour or so.
Full-Frame Installation
For a more complex patio door replacement, a full-frame installation will be necessary. This type of installation is done by completely removing the old door, including all the frames and trim. If you're looking to change out the type of patio door you have, this option allows for greater design flexibility. While full-frame installation is more time- and labor-intensive, it is worth it if you are looking to completely change the aesthetic of your patio door.
A Pella professional will work with contractors to ensure your project is completed from start to finish. From a simple pocket replacement to creating an indoor-outdoor experience with a completely new type of patio door, our experts are here to guide you on your way to achieving your dream home.

Finding the Patio Door Right Installation Option for You
We want you to feel comfortable and confident in the replacement process. Considering all the options for installation is an important part of patio door replacement. In order for your patio door to perform its best, it needs to be installed correctly. Depending on the scope of your project and your comfort level, there are four different installation options to choose from.
Manufacturer's Installers
Pella has a team of expert installers who have been certified to install our branded doors. Our installers are kind, professional and efficient when it comes to getting your home renovation project completed. These professional installers come with dedicated service and support from our team. Working with the manufacturer's installers also helps protect your investment with the Pella Care Guarantee. Our warranties are designed for your peace of mind — if something goes wrong with your replacement patio door, we'll be there.
Hire an Independent Contractor
You may have a friend who is a contractor or choose to support a local contractor to install your patio door. Recommendations go a long way in a contractor's small business. Be sure to check that your contractor has experience working with and installing Pella-specific patio doors. This way you won't have to worry since they will already have experience with our product.
If you're not sure where to get started, Pella offers certification for contractors. Pella Certified Contractors have been trained to quote and install Pella patio doors. A certified contractor will deliver an end result you'll love.

Work with a Local Home Improvement Store
Your local or national home improvement store may partner with subcontractors who can help you install your replacement patio door. Before hiring a contractor, make sure you ask them a few questions to gauge their experience. These questions will help ensure that both you and the contractor are covered for installation.
Are you certified in remodeling?
Do you have your own crew or do you subcontract?
What type of warranty do you offer on installation and how do I handle service issues after the installation is completed?
Do you have a list of referrals?
Can you install my patio door in any type of weather?
As with any trade specialist, there are varying levels of skill sets and experiences one contractor may have over another. Doing your research will give you confidence in your choice of contractor.
Do It Yourself
If you have experience with renovation projects around your home, installing your replacement patio door on your own may be the route for you. When installing a patio door by yourself, you'll need to make sure you thoroughly research all the steps that go into the replacement process. This includes purchasing all the door installation tools, equipment and materials necessary to complete the project at home.
You deserve the best when it comes to replacing your patio door. No matter how big or small of a project you're about to take on, choosing a Pella patio door is a great choice. Our patio doors will improve the value of your home while creating a space you'll love to live in. Learn more about your installation options by getting in touch with a Pella expert in your area.
Patio Door Features & Options
Explore What Pella Has to Offer