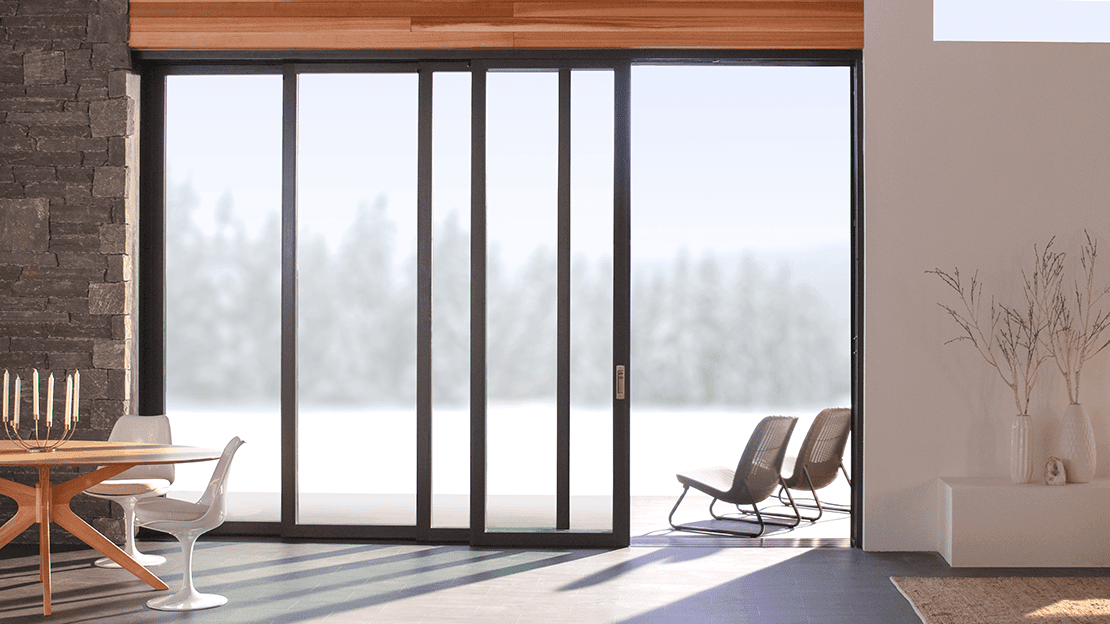 Find the Patio Door That Suits Your Home
With a variety of patio door types to choose from, find what best complements your home's architectural style. Connect your indoor and outdoor living spaces with patio doors that complement your home's design and suit the needs of your lifestyle.
---
You know you want patio doors for your home, but perhaps you're not sure what style of patio doors are the best fit. Fortunately, there are a variety of styles to choose from, each designed to serve the needs of a particular homeowner. As you weigh your options, there are important factors to consider that can help narrow down your decision.
Consider how much space you have to work with in the area of your home where you plan to install your new patio doors. The type of glass and material of your patio doors is also important in terms of durability, maintenance and energy efficiency.

Read on for more information on the specifics of each patio door style. Understanding the differences that distinguish one from the other will help you make an informed decision.

Open Up Your Home with Hinged Patio Doors

Elegant and efficient, hinged patio doors are a classic choice. The panels, made mainly from glass, swing in or out, depending on your preference. If you are a homeowner looking for more convenient access between your indoor and outdoor living spaces, hinged patio doors are a simple but effective solution.
You can opt for a single hinged patio door or choose to install a pair. More homeowners are choosing two hinged patio doors to widen the opening to their deck or patio, but your decision will ultimately depend on how much wall space you have to work with. A wider opening may be a wise decision for high traffic areas, especially if there are kids or pets barreling in and out. With two doors, you can have one operable door and one fixed door.
But the real beauty of hinged patio doors are the style choices. Whether you are living in a modern or traditional home — or somewhere in between — you're certain to find hinged patio doors with the size, shape and style to complement your home's aesthetic.
Hinged French Patio Doors
Speaking of style, hinged French patio doors are elegant in every sense of the word. As a subset of hinged patio doors, French patio doors are popular for their functionality and style.
If you're looking for an iconic entryway, the search is over. Double French patio doors swing open to create a grand entryway that is both warm and welcoming. Even when they are closed, the wide glass panels of French patio doors allow in plenty of sunlight.
Sliding Glass Patio Doors Save Space

Short on space? Sliding glass patio doors are a great option. Consisting of two panels made mainly from glass, one panel slides horizontally to open and close. Because they don't swing in or out, you are using less floor space. You can have furniture nearby without having to worry about it blocking the door from being opened. Sliding patio doors are popular for this very reason.
Sliding glass patio doors are also a great source of natural light. Thin frames allow for larger panels of glass, inviting an abundance of sunlight into your home. You can manage how much light you allow into your home with between-the-glass blinds, but the important takeaway is that you'll have the power to brighten your indoor living space.
Sliding glass patio doors are a staple of modern home design. Their design is slimmer than more traditional alternatives, providing a more contemporary look. Sliding glass patio doors are also coveted for their smooth operation, opening and closing with ease.
There is no shortage of options when it comes to materials, either. Pella offers sliding glass patio doors in a variety of materials, including wood, fiberglass and vinyl. Take advantage of the natural beauty of wood, the durability of fiberglass or our low-maintenance vinyl.
Extend Your Living Space with Bifold and Multi-Slide Patio Doors

Bifold and multi-slide patio doors are ideal for setting the scene. These impressive patio doors can turn any wall into a grand opening. You can fold, slide, stack or pocket the panels for a wide array of configurations.
Bifold patio doors are made up of panels that open and close along a singular track, folding and stacking into the interior or exterior to create an unobstructed opening. You can customize them with passage doors that allow you to walk in without having to open up the entire space.
Multi-slide patio doors can consist of up to 10 glass panels to create an opening as expansive as 59 feet. The panels can slide to one side or open in the middle, or even be tucked away or stacked against each other. The intuitive design of multi-slide patio doors also includes flush handles recessed into the sides of each panel for easy operation.
With Pella, you can be sure to find a patio door that is perfect for your home. No matter the architectural style of your home, there is a patio door that is right for you.
Explore What Pella Has to Offer