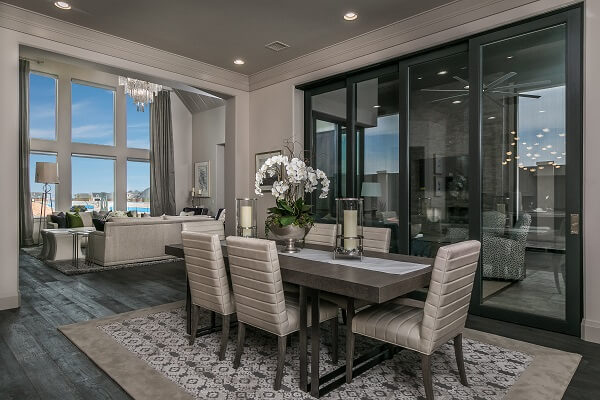 Multi-Slide Patio Doors and Fiberglass Windows on Texas Home Elevate Contemporary Design
New contemporary-style home showcases bold, beautiful details
---
Project Details
Type:
Location:
Products Used:

Design-savvy owners of this newly built residence in Amarillo, TX were excellent planners. During its construction phase, they asked for windows and doors that highlighted the home's streamlined contemporary style. We were lucky to partner with Champion 1 Builders to make that happen. Our premium fiberglass windows have been installed throughout. Their sleek, black exterior finish draws the eye. The use of white on the inside creates a striking backdrop to furnishings and décor. In addition, two wood multi-slide patio doors elegantly enhance this home's open floor plan and match the windows' color scheme.

Instantly unite indoor and outdoor living spaces.

Pella® Impervia® fiberglass windows bring durability to custom design.
The warm glow of this modern home is made even more inviting thanks to our fiberglass casement windows. Each one is tailor made to fit its intended space and provide exceptional energy efficiency. Long-lasting durability comes from our patented fiberglass composite that can withstand extreme heat and subzero cold. If you prefer the look of painted wood without the maintenance, Pella's Impervia line is a superior choice. See more project details from the local Fort Worth showroom.
Our team crafts windows and doors just for you. A wide variety of styles, finishes and time-tested innovations are at your fingertips.
Features & Options
EXPLORE WHAT PELLA HAS TO OFFER PANEL