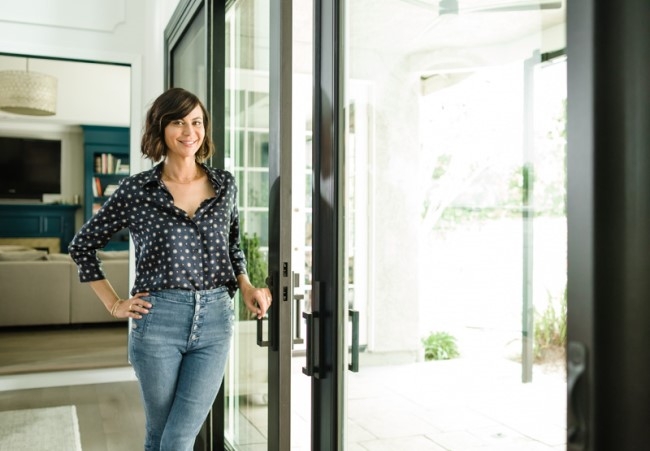 See Catherine Bell's Updated California Home
Traditional homes can make a statement of classic sophistication, but sometimes they might require a few updates to match your unique tastes. Need proof of how easy the transition can be? Learn how Catherine Bell pulled it off by adding a few new Pella® doors to her California home.
---
When Catherine Bell, star of Good Witch, discovered an almost-perfect, gray-and-white, traditional home outside of Los Angeles she knew that, like many older homes, it was going to take some work before its design, style and interior space matched up with her individual preferences.
Enter Pella. With an entry door swap and the installation of a new sliding patio door, Catherine Bell's California house became what she always hoped it could be — a home.
Modern Front Door Frenzy

"The front door was probably the first thing I wanted to change. It was very '80s and had a stained glass, old-fashioned look," says Bell, whose eclectic leanings run from somewhat traditional to modern.
Maintaining a timeless, traditional spirit while mixing in a bit of modern flair can be a delicate balancing act. Catherine Bell installed a custom, premium wood entry door to renew her home's entryway without overtaking the already existing design she originally was so infatuated with.
The Pella entry doors exude personality and class. Bell paired her custom three-panel entry door with two full light sidelights, augmenting the approachability of her home by inviting drops of sunshine to brighten her entryway. Pella offers a diverse range of entry door combinations. A transom coupled with sidelights, for example, not only allows in more light, but speaks to the decorator in all of us with a slew of optional grille styles and patterns. A modern door, when matched with the right amount of contrast, can result in a transitional design that is engaging and alluring.
Open the Door to a Lively Living Room

After her entryway, Catherine Bell knew she wanted to update her living room. And, one of the simplest ways to animate any space is to mix in natural sunlight through the use of a sliding glass patio door. "When you walk through the door, the living room is the first thing you see, so it was really important for me to make the space really beautiful," Bell says.
Ultimately, Bell worked with Pella to install an 8-foot, four-panel sliding patio door. The doors slide open from the middle, meaning it can almost be completely opened, maximizing Bell's family living space. For a busy working mother, the more living space her family can take advantage of, the better.

Patio Door Possibilities
While Catherine Bell selected a more contemporary patio door selection for her living space, Pella also offers patio door options in a number of product lines, including Pella Lifestyle Series and Pella Impervia®. A feature-packed wood sliding patio door, Pella Lifestyle Series products prove energy efficiency, sound control and value can all be delivered in one package.
On the other hand, when it comes to strength, Pella Impervia patio doors are made from our proprietary fiberglass material, the strongest material available for windows and patio doors, engineered for lasting durability.16 Bell might not have to put up with the biting cold that sweeps across much of the country during the holiday months, but some of us do.
If space isn't as much of an issue for you, simple elegance can also be obtained with French patio doors. Advancing the modern aesthetics of your home is still possible with contemporary hinged patio doors. Minimalist, current and bold, combine one of eleven interior stain colors with a grille pattern that speaks to you, and your architectural style will never be the same.
Screen Door Splendor
A mother, Bell was careful to keep her littles ones in mind during her door selection. So, she decided to pick a Pella sliding patio door with self-closing screen door technology. Available on Architect Series® sliding patio doors, the sliding screen door closes gently when someone enters or exits. Bell explains, "[It's] great for keeping out the bugs at night so you get the fresh air. You can open it up completely, so, you're playing pool, you're going in and out, the kids are going in and out and swimming and eating and it's lovely."
Pella Rolscreen® retractable screens are another screen option that is just as easy to use, letting homeowners experience beauty without any compromise. Fresh air wanders throughout your home without the annoyance of pests sneaking in. Simple, elegant innovation.
Put Home First with Pella Doors

It wasn't an easy undertaking, but with Pella's help, the process to make Bell's new home match her taste was a smooth one. The Good Witch star updated her patio doors and front doors to bring back to life a home that was beginning to become dated.
"I love coming home at the end of the day. It's homey, inviting and mine," she says.
Should you want to renovate your home or discover the possibilities available for your exterior doors, don't hesitate to schedule a free in-home consultation today.
Windows and doors provided in paid partnership with Pella.
Explore What Pella Has to Offer