Pella Lifestyle Series Wood Sliding Patio Door
$$-$$$
Pella Lifestyle Series sliding patio doors have one or more panels that slide open from side to side. The door panels feature large panes of glass to allow in more natural light. With up to 37 available time-tested innovations, Pella Lifestyle Series sliding patio doors are a great choice for any home. These products are the #1 performing wood patio door for the combination of energy, sound and value — making them a great option for any home. And they take up less room than hinged patio doors, making them a great option for tight spaces.
Lifestyle Sliding Patio Door Features
Why Wood?
Best limited lifetime warranty for wood patio doors47
Natural beauty and warmth
Low-maintenance exterior aluminum cladding
Exclusive wood protection
Our most customizable material
Performance Enhancements
Most desired features and options, integrated blinds and shades
Sound and energy performance packages
Options with dual- and triple-pane glass
Optional, self-closing retractable screen
Browse Other Lifestyle Series Patio Doors
Pella Lifestyle Series
Pella Lifestyle Series products are constructed with a three-way corner joint that is made up of mortise-and-tenon, metal fasteners and commercial adhesive. This provides added strength and durability for the sliding patio door panel and frame.
Learn More about Performance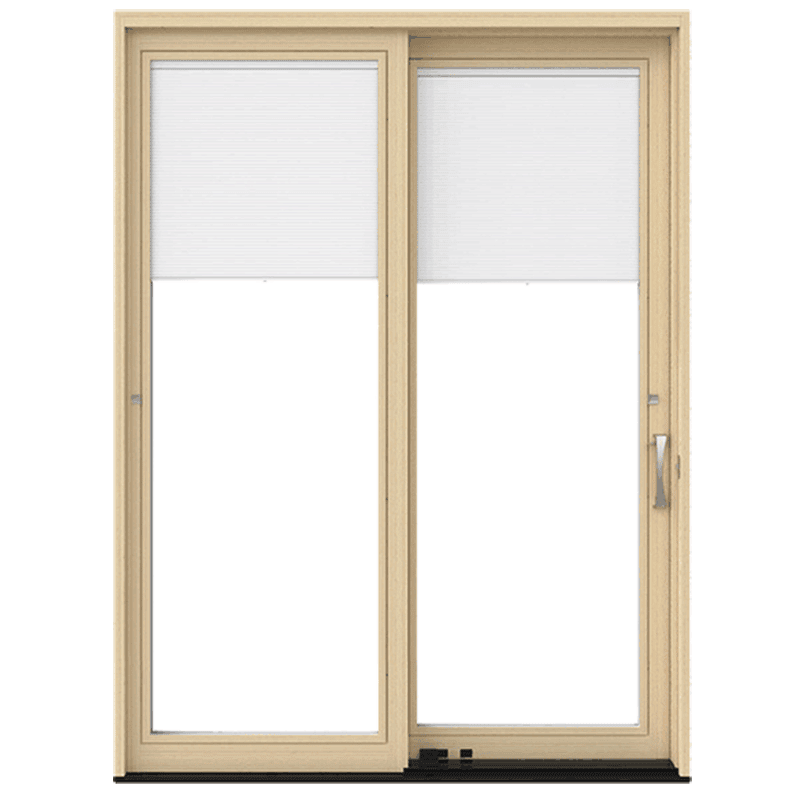 For the Pros
Pella Lifestyle Series Sliding Patio Door Specs & Install Details
#1 performing wood patio door for the combination of energy, sound and value44
Performance rating of LC40-LC60 and STC of 33-36 with triple-pane glazing and double-door configuration
Available in 1-, 2-, 3- and 4-panel configurations, up to 189" x 96"
Enhanced performance options available with triple-pane glazing
Installation options include Fold-out Fin, Block Frame, and EnduraClad Exterior Trim/Brickmould
Available with integrated wireless security sensors and integrated blinds or shades, with or without motorization.
Request a Project Quote
Available Performance Packages
Find the right package for every room in your home. We've created performance packages highlighting energy efficiency, sound performance or both. Upgrade from a dual- to a triple-pane glass design with the packages below.

Performance
Improved energy efficiency and sound performance.

Sound Control
Exceptional noise control for a quieter home.


Energy Efficiency
Superior energy efficiency for a more comfortable home.

Ultimate Performance
The best combination of energy efficiency and noise control.
Options for Pella Lifestyle Series Sliding Patio Doors
---
Choosing Your Patio Door
---
Interior Finishes
Pella wood products can arrive factory-prefinished in your choice of four beautiful stain colors or three paint colors. Primed ready-to-paint interiors are also available.2 Learn more about finishes and colors.

Bright White
Exterior Finishes
Your windows and patio doors arrive with Pella's low-maintenance, aluminum-clad exterior finish in the color of your choice. The finish resists fading and helps protect the exterior for years.


Black
For Pros
Aluminum-Clad Exteriors
Aluminum-clad wood products are available with Pella's high performance EnduraClad® protective finishes to help keep your vision fresh and crisp for years.
Durable, low-maintenance EnduraClad aluminum cladding with EnduraClad protective finish for most projects where resistance to fading, chalking, chemicals and abrasion is needed. Meets the performance requirements of AAMA 2603.
Seacoast EnduraClad protective finish for coastal projects with high salt exposure.
Styling Your Patio Door
---
Hardware
Innovative and secure sliding patio door hardware options are available to customers.

Oil-Rubbed Bronze (Upgraded finish)
For Pros
Sliding Patio Door Hardware
Exterior - Exterior hardware matches color of aluminum cladding
Thumblock - Interior thumblock allows easy one-hand operation.
Keylock - An exterior keylock provides secure access.
Optional feature.
Configured "C-K" keyway pinlock cylinder on exterior.
Key cylinder available in Chrome.
Footbolt - A footbolt holds the door open about 3" for ventilation.
Easy to Operate - Adjustable ball-bearing rollers at the sill of the operable door panel ensure easy operation.
Standard option: two adjustable, sealed, electroplated steel with organic coating ball-bearing rollers set on stainless steel track.
Seacoast option*: two adjustable, corrosion-resistant, stainless-steel ball-bearing rollers set on stainless steel track. (*Shipped out of unit for field installation.)

Exterior

Thumblock

Keylock

Footbolt
Integrated Blinds and Shades
Intentionally designed to be accessible, integrated blinds and shades are tucked between glass panes and are protected from dust, pets and little hands. Motorize your between-the-glass blinds and shades to raise and lower via a remote control or with a smart device using the free, Pella® Insynctive App.
Haven't decided on a blind or shade color? Our triple-pane products come up with all the hardware you need to add a blind or shade straight from the factory or at a later date,

White
For Pros
Between-the-Glass Options
Pella Lifestyle Series triple-glazed products offer our best integrated blinds which are accessible and are available with raise-and-lower and tilt functionality. Integrated blinds and shades are available with our without motorization.
Accessible, integrated window treatments arrive custom-fit and installed – a superior value when compared to other aluminum or wood windows with roomside window treatments.
Removable between-the-glass options are especially applicable for projects such as health care and school facilities where damage to roomside window treatments is more common.
With our patented triple-pane design, you and your customer can make blind and shade decisions later in the schedule. Our triple-pane products come with all of the hardware to add a blind or shade straight from the factory or at a later time in the building or remodeling process.
Putting blinds between the glass provides light control while protecting them from dust and damage, thereby saving on cleaning, maintenance and replacement costs.
The addition of integrated blinds or shades lowers U-Factors and reduces solar heat gain.
Grille Patterns
Grilles give the appearance of individual windowpanes. Pella offers many grille options to help enhance your home's style. See all Grille Patterns.

Traditional
Grille Profiles
Grilles are permanently sealed between the panes of insulating glass, attached to the inside of your window with latches and removed when cleaning, or permanently bonded to the inside and outside of your glass with optional spacer.

3/4" Grilles-Between-the-Glass
For Pros
Grille Profiles
Between-the-glass grilles may be used in conjunction with integrated blinds or fabric shades.
Interior is available in unfinished wood, primed, White or matched to prefinished stains.
Exterior finish matches aluminum cladding.
Grilles-between-the-glass are permanently sealed between panes of insulated glass.
Custom grille patterns are available.
Patio Door Enhancements
---
Integrated Security Sensors
Stay connected to your patio doors.
Preserve beauty, add comfort and enhance home security with innovative Pella Insynctive® technology.
Built-in beauty. Optional integrated sensors with time-tested wireless technology are built in and tucked away, out of sight, to preserve the beauty of Pella patio doors.
Protect what matters most. Monitor patio doors while at home or away with the Pella Insynctive App.40
Maintain warranty. Sensors are installed during manufacturing and require no additional drilling. Learn more about Insynctive.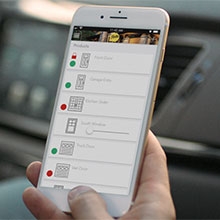 Screens
Patio door screens play an important role in your home's light, ventilation, and view. Pella's high-transparency screens are made of a finer screen fabric than conventional screens, so they allow more air and natural light to flow into your home – and your view is crisp and clear. And unlike ordinary screens they're practically invisible from the street, so they improve your home's curb appeal. See all screens.
Optional Rolscreen retractable screen rolls away and out of sight when not in use, eliminating the seasonal chore of removing and storing screens.
For Pros
Screens
Top-hung sliding screen doors are located on the interior where they are less susceptible to damage.
Screen assembly is top-hung for easy operation.
Screen frame exterior is painted to match patio door's exterior color.
Screen frame interior is available in unfinished Pine (ready for site finishing), primed Pine, prefinished paint and prefinished stain.
InView™ Screen - Allows in 14% more daylight and 8% more airflow than a conventional fiberglass screen. Made from a screen material that's more transparent than conventional fiberglass screens.
Vivid View® Screen - Allows in 29% more light and 21% more airflow than a conventional fiberglass screen. Made from a clearly revolutionary screen material that's practically invisible – providing the crispest, sharpest view.
Rolscreen® retractable screen - This optional, retractable screen rolls up and down like a shade on sliding patio doors. Features self-close retraction. InView™ high-transparency screen material comes standard.
Compare Sliding Patio Doors
Explore Other Patio Door Product Lines