Pella® Hurricane Shield Series™ Vinyl Multi-Slide Patio Door
$$$-$$$$
Expand your living space with Pella Hurricane Shield Series multi-slide patio doors. Panels stack out of sight with an available pocket configuration and the door is built with anti-lift blocks for enhanced security and protection from forced entry. Advanced glass technology helps protect your home from Florida hurricanes. Choose from solid- or dual-color frames to create a design statement and add a distinct grille pattern to further your style.
Hurricane Shield Series Multi-Slide Patio Door Features
Why Vinyl?
Low-maintenance
Exceptional energy efficiency
Popular styles and options
Pella's exclusive vinyl formula
Quality craftsmanship backed by Pella
Performance Enhancements
Available options for use in the High Velocity Hurricane Zone
Easier storm preparation for your patio doors, just close and lock your products
Optional premium roller for smooth operation
Energy-efficient frames with up to 18 insulating air chambers
Impact-resistant and laminated glass available
Browse Other Pella Hurricane Shield Series Products
Pella Hurricane Shield Series
Hurricane Shield Series patio doors feature an intentional frame design, providing exceptional energy efficiency and comfort, and pre-drilled installation holes for a precise installation. Made with our exclusive vinyl formula, designed and performance tested for excellent weathering and durability, your multi-slide patio door provides long-lasting beauty.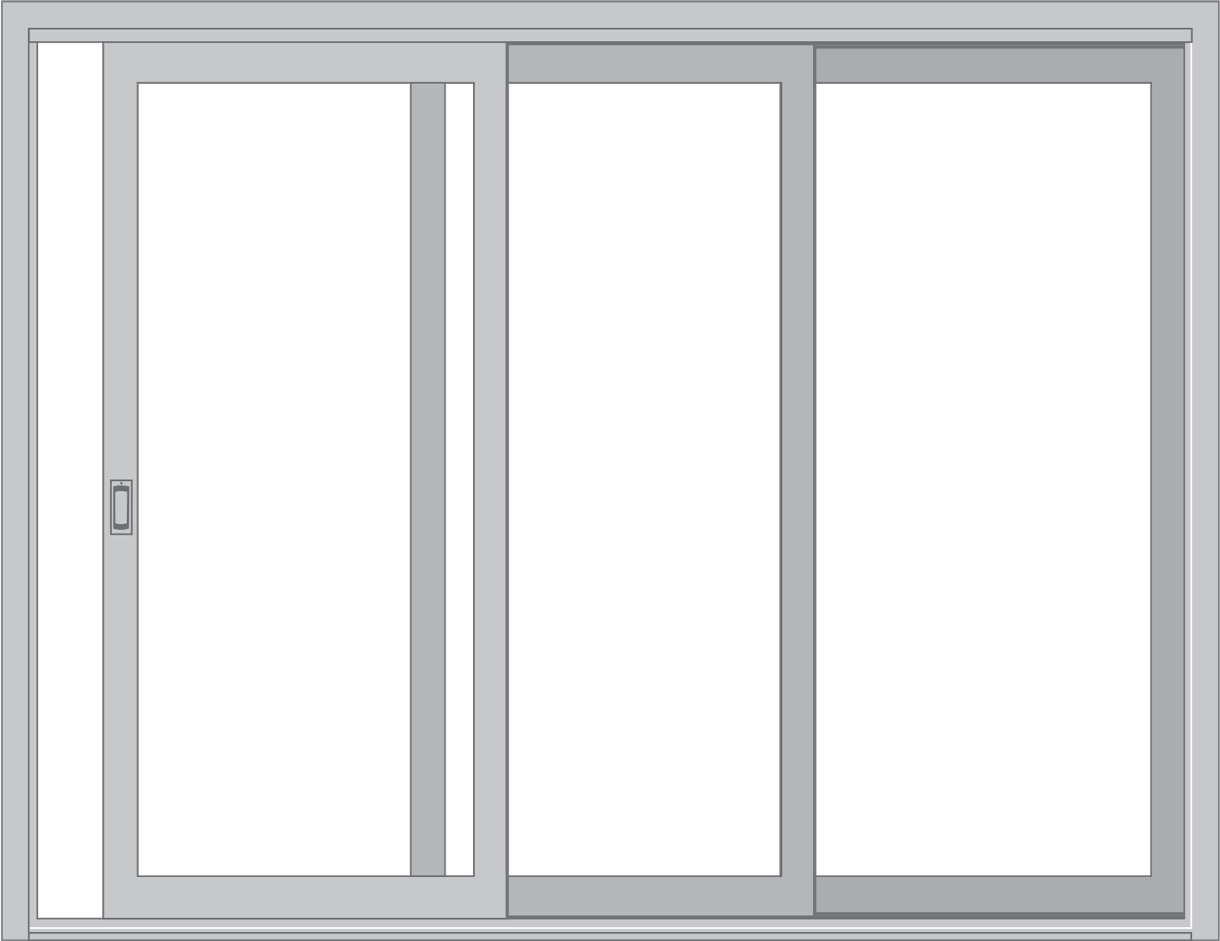 For the Pros
Pella Hurricane Shield Series Multi-Slide Patio Door Specs & Install Details
Engineered for hurricane protection and exceptional everyday performance
Rated for installation and use in all coastal areas, including the HVHZ, Florida Building Code and Texas Department of Insurance
Multi-slide patio doors available in sizes up to 360"x 120"
Precise installation frame design with installation holes pre-drilled into the frame
Design pressure from +/-65 to +/-80
FL # 20834, 20838
Request a Project Quote
Options for Pella Hurricane Shield Series Patio Doors
---
Choosing Your Patio Door
---
Finishes & Colors
Pella Hurricane Shield Series vinyl projects feature low-maintenance, easy-care vinyl frames. Choose from two solid-color frame options or one dual-color frame featuring White interiors and Bronze exterior.

White
Styling Your Patio Door
---
Hardware
Match your door's interior and exterior color with a color-matched, corrosion-resistant handle.

White
Grille Patterns
Pella offers many grille patterns to help enhance your home's architectural style.

Traditional

3/4" Contour
Compare Multi-Slide Patio Doors
Explore Other Patio Door Product Lines