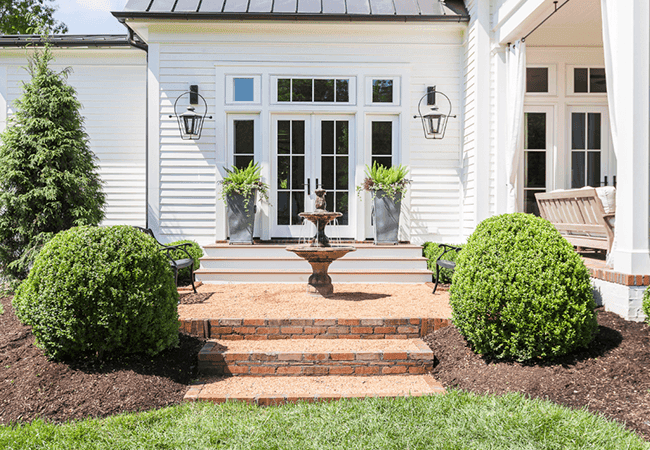 Landscape & Architecture Ideas: From Front Yard to Back
The landscaping ideas you implement in your front or back yard should extend your home's personality, helping to make an outdoor space perfect for entertaining and relaxing after a long day. These design tips will transform your garden ideas into a lush reality.
---
Renovating or updating your garden décor can help increase the curb appeal of your home, but the landscape and architecture of your yard can also invite both friends and family alike to spend time together in the open air. And, if nothing else, a home and its outdoor spaces can contribute to the making of memories.
Plenty of elements play a central role in shaping the outdoor space that reflects you as a homeowner and allows for easy, fun use. With Pella, achieving your ideal home style is only a few steps away.
Become a Landscape Architect

Curb appeal is an important aspect of any home's value. But more often than not, curb appeal grows alongside the level of contentment the homeowner has with their outdoor space. Even so, supercharging curb appeal and cultivating striking outdoor spaces often means thoughtfully considering a few architecturally sound landscaping ideas.
In the above picture, we see a modern home's backyard architecture mirroring the sleek lines of its cement walls and black casement windows. The use of an abstract pathway and slender sweetgum trees helps accomplish this, creating a polished and complete outdoor space. Trying to coordinate your landscape architecture with your interior design is a great way to cultivate an overall sense of place for your property.
Depending on the look you're seeking for your garden or outdoor space, landscape and architecture tips may differ. For example, to accomplish a Mediterranean look, accenting your porch with terracotta containers and natural paving materials might do the trick. Alternatively, for a Craftsman backyard look, stick with simple plants, wooden box planters and stone pathways.
Landscaping plays a central role in any home design. To improve your home's curb appeal and create intimate backyard and front yard areas for gathering and enjoying the company of friends and family, keep these easy landscaping suggestions in mind. And, when in doubt, remember that complementary décor is key.
To improve your home's curb appeal and create intimate backyard and front yard areas for gathering and enjoying the company of friends and family, keep these easy landscaping suggestions in mind. And, when in doubt, remember that complementary décor is key.
Always Accessorize
The little details and outdoor décor you choose can turn your outdoor space into something special. The right patio umbrella, for example, not only provides shade, but accents the entire decorative design of your lawn. Hand-selected lawn ornaments can make a backyard feel folksy and rustic. And, comfortable, durable outdoor cushions can make your guests just as at home in your backyard as they are in their own living rooms.
No matter the lawn decorations you may pick, try to find décor items that match the style of your home's interior. Color, however, is not vital to match when designing your outdoor space. Feel free to establish your own outdoor color scheme to add contrast and intrigue.
Pella® patio door finishes offer much latitude when developing an original outdoor space and color scheme. Wood patio doors can be stained or painted in a multitude of different colors. A Red Mahogany prefinished stain on an Architect Series® patio door radiates a rich sense of humble sophistication. Pine wood interiors can arrive stained by the expert Pella team, so you can always feel confident about the professional, high-quality grade of any finish you may decide upon.
Seamless Entries with Flexible Layouts

In any room or space in your home, it's important to have a beautiful, functional door. The same holds true for your backyard patio door. A four-panel sliding patio door provides an abundance of natural light and gives you the option to leave it open to show off your home's interior design as long as you or your guests would like.
A redecorated or renovated patio or outdoor space should have a layout that accommodates both you and your guests. Arranging furniture and lawn decorations so that there's an open area in the center of your patio will support a sense of flow while also aiding walkability. Try and choose outdoor seating and furniture that create welcoming spots for eating, lounging or simply chatting.
If your backyard patio has a nearby vegetable garden, it might be a great idea to make room for a long dining room table that matches the style of your home to enjoy the freshest veggies you can get your hands on. A pair of hammocks can be great for lounging and a large sofa with lounge chairs tends to encourage dynamic conversation. If you have space, a seating nook around a firepit can be the highlight of an outdoor space and provide late night excitement.
The heart of any home does not need to always stay the same. It can change over time, from second to second and day to day depending on where you and your loved ones happen to be enjoying yourselves at the particular moment. A magnetic outdoor space starts with the right patio doors, lawn decorations and outdoor décor and ends with a happy household.
Explore What Pella Has to Offer