Pella® Architect Series® – Traditional Commercial Entrance Door
$$$-$$$$
Pella Architect Series – Traditional commercial entrance doors are an exceptional choice for commercial projects. Available with low-profile sills and standard 32" openings, these commercial entrance doors are ADA compliant. Ogee profiles and functional hardware to complement your commercial space.
Architect Series - Traditional Commercial Entrance Door Features
Why Wood?
Best limited lifetime warranty for wood patio doors47
Natural beauty and warmth
Low-maintenance exterior aluminum cladding
Exclusive wood protection
Our most customizable material
Performance Enhancements
High-performing energy-efficient options
Ogee profiles
ADA compliant sills and 32" clear openings
Browse Other Pella Architect Series - Traditional Patio Doors
Inside Architect Series
Designed for durability and featuring exclusive wood protection, Architect Series doors provide long-lasting beauty and performance. Pella's EnduraGuard® wood protection is applied after the pieces have been cut and milled, but prior to final assembly, providing advanced protection against the elements.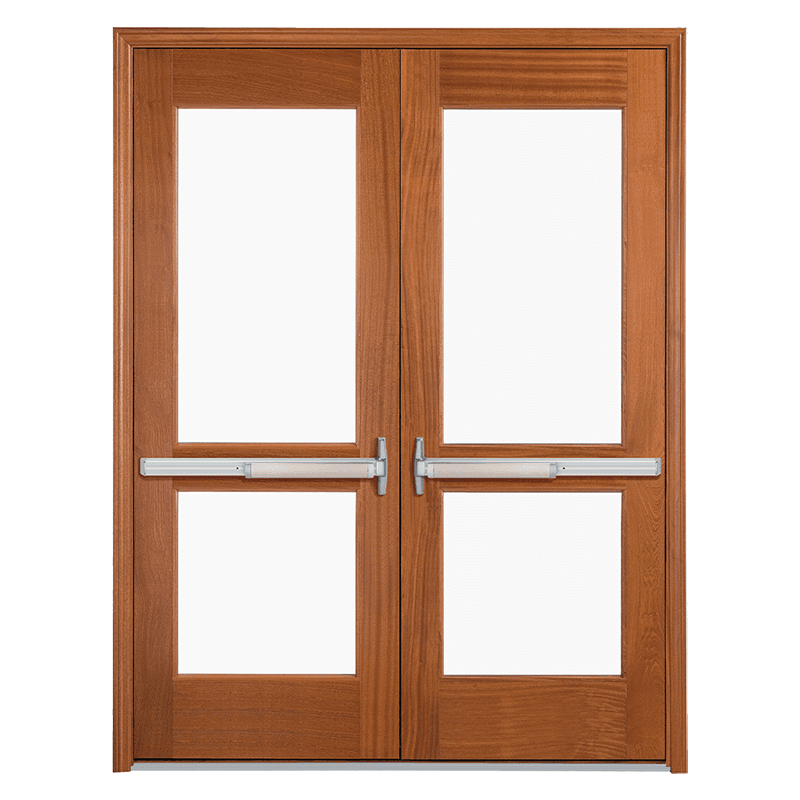 For the Pros
Architect Series – Traditional Commercial Entrance Door Specs & Install Details
Distinguished craftsmanship and nearly endless possibilities
Low-profile ADA compliant sills and 32" clear opening width
Available in sizes from 48" x 79-1/2" to 73-1/2" x 95-1/2"
Installation options include Fold-out Fin, Block Frame, EnduraClad Exterior Trim / Brickmould
Create architectural interest with optional transoms and sidelights
Request a Project Quote
Options for Architect Series - Traditional Commercial Entrance Doors
---
Styling Your Door
---
Hardware
These doors are supplied without hardware to accommodate various hardware needs driven by local code requirements and architectural specifications.
For Pros
Hardware
Guidelines for selecting hardware from your supplier:
Mortise locks - Maximum mortise route dimensions are shown below for doors with standard stile dimensions. Maximum height of the mortise route is 10". Routes should be sealed before the locks are installed for added moisture protection.
Cylinder locks - Maximum diameter of bore is 2-1/8". Minimum backset is 2-3/8"; maximum is 2-3/4".

Door closers - Surface-applied door closers with mounting devices that anchor into the structural header of the rough opening are recommended. Devices that anchor to the door frame only are not approved for use on Pella doors. Concealed closers that are routed into the top of the door panel are not recommended.
Exit devices - Surface-mounted vertical rod hardware is recommended. Concealed vertical rod hardware is not recommended.
Kick plates and push plates - Recommended to protect the finish.
Sill and hinge finishes - Mill and Bronze sill finishes. Hinge will complement the sill finish.

Ball-bearing hinges - Three hinges on doors with a frame height of 6'10" or less. Four hinges on doors over 6' 10" frame height up to and including 8' 0" frame height.

Grille Patterns
Grilles give the appearance of individual windowpanes. Pella offers many grille patterns to help enhance the architectural style. Learn more about grille patterns

Top Row
Grille Profile
For the classic look of individual windowpanes, choose grilles-between-the-glass, removable roomside wood grilles and Integral Light Technology Grilles.

7/8" Ogee Integral Light Technology
For Pros
Grilles
Three grille types are available on Architect Series - Traditional windows and patio doors.
Integral Light Technology® Grilles are historically accurate; adhered to the exterior and interior face.
Grilles-between-the-glass are permanent aluminum grilles that are factory installed between the panes of glass to provide easy cleaning.
Removable Interior Grilles can be removed for glass cleaning.

Integral Light Technology® Grilles

Grilles-between-the-glass

Removable Grilles
Compare Commercial Entrance Doors
Explore Other Patio Door Product Lines