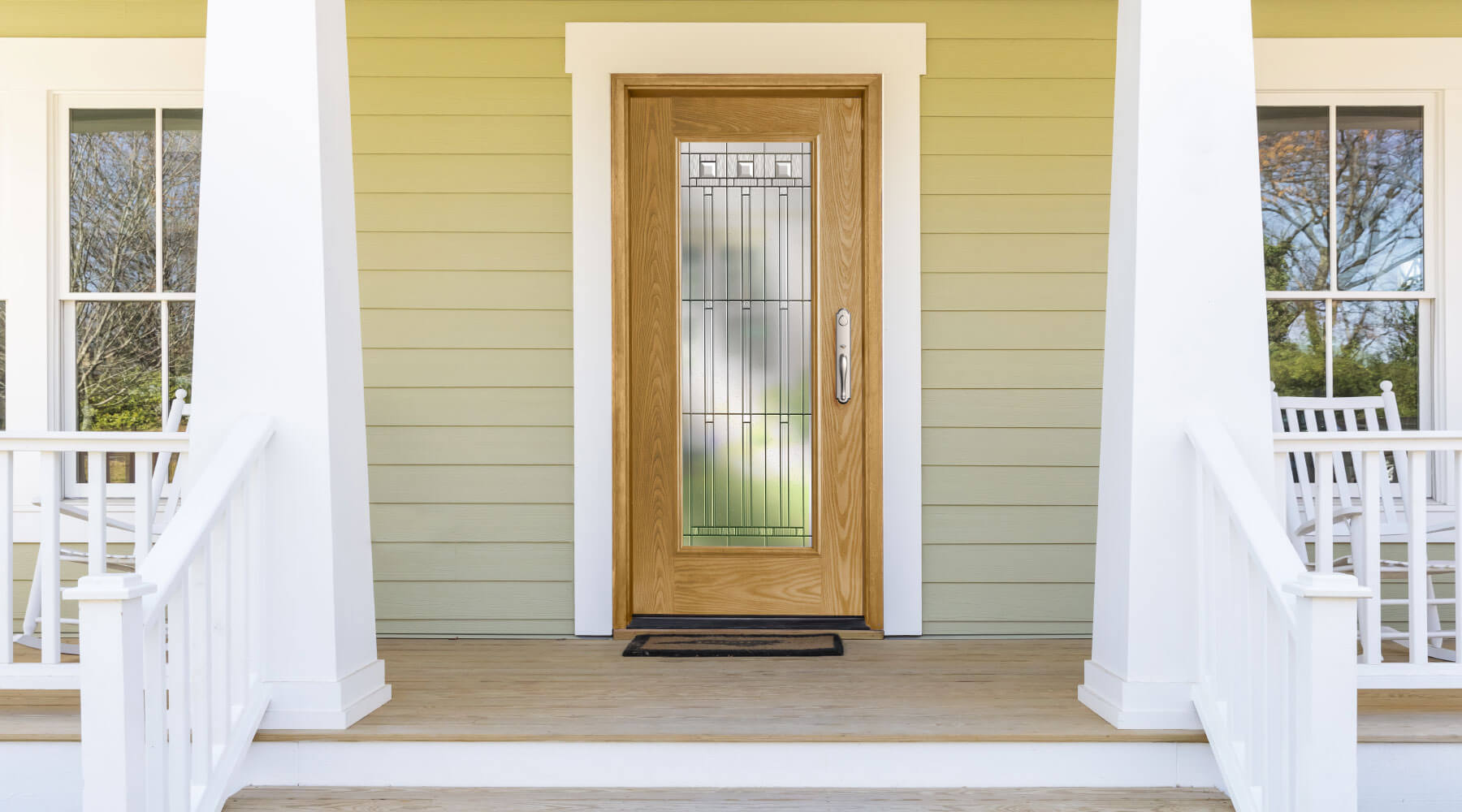 Replacement Entry Door Options
There is no shortage of options when it comes to replacing your entry door. Find the installation method that is right for you, whether you choose a Pella installer or do it yourself.
---
It is important to understand the importance of proper door installation. Improved comfort, energy savings, peace and quiet and security all depend on your new or replacement door being installed with care. So find the installer that can offer you peace of mind.
Exploring your Entry Door Installation Options
Not every homeowner has to go the same route when it comes to installing their new or replacement entry door. They have the benefit of being able to choose how they want their entry door installed and who they want to install it. But before you make a decision, take the time to explore your options and understand the key differences between them.
Pella's Installers Offer Expertise
If you are looking for someone to guide you through the process from start to finish, working with one of Pella's installers is the way to go. They are the experts, after all. We have professionals who are recertified annually to install our brand of doors. You'd be hard pressed to find someone more familiar with their product and how best to install it.
Pella's installers will work with you to coordinate a mutually convenient date for installation, develop and review an installation plan with you, and will even take the time needed after installation to show you how to operate and maintain your new front entry door. In most cases, the installers will also dispose of your old door after it has been removed.
Our team of professional installers are all backed by the Pella Care Guarantee. As part of our commitment to the satisfaction of every customer, we offer protection for your Pella products and their installation. We want you to have confidence every step of the process, from start to finish. The Pella Care Guarantee is our way of making life easier for you.
Find an Independent Contractor You can Trust
Trust is important when choosing an independent contractor. Independent contractors are not employed by or associated with Pella, and will provide their services under a written contract or a verbal agreement. Homeowners will often rely on recommendations from friends and neighbors who have previously had a good experience with a contractor. Testimonials can help you identify contractors with good reputations for their quality of work and reliability.
Here is a list of questions to ask an independent contractor before you decide to work with them:
Have you or your crew been certified in remodeling?
Do you have your own crew, or do you subcontract?
What type of warranty do you offer on the installation, and how would I handle service issues after the installation is complete?
Do you have a list of referrals?
Can you or your crew install under any weather conditions?
Be sure to check your area for independent contractors who have been trained and certified by Pella to quote and install our products. The certification will offer a measure of confidence that you might not otherwise have working with other contractors. Pella Certified Contractors are trained to quote and install our windows and doors.
Go Local with a Home Improvement Store
If you shopped for your replacement entry door at a local home improvement store, ask an employee if they have partnered with a subcontractor to install the products sold in their store. Much like when you work with an independent contractor, you are relying on a recommendation, since the store will have more than likely worked with the subcontractor previously.
Ask the store's subcontractor the same questions you would pose to an independent contractor.
Pella at Lowe's is a unique partnership between a home improvement store and a manufacturer, allowing both Pella and Lowe's to provide quality products and service to their customers. If you live near a Lowe's, do not hesitate to stop and speak to a project specialist.

Take the DIY Approach
If you have the confidence and experience, you can always take care of the installation yourself. Be sure to research all of the steps and purchase all of the necessary door installation tools and materials you'll need. As long as you are comfortable undertaking the task and trust your level of expertise, there is no reason you can't install your new front door on your own.
The manufacturer should also be able to provide installation instructions to help guide you through the process, whether you are undertaking pocket, full-frame or new installation.
Working with a Professional Installer
If you decide to work with a Pella installer or a contractor, one of the first steps of the process will be to schedule an in-home consultation. This will serve as a fact-finding opportunity for both you and the professional installer, meaning you'll need to have on hand the information they require and also know what to ask to help you feel more comfortable.
Know What Your Front Entry Door Installers Need to Know
On your first call with a potential installer, they'll need to know the basics of your project. How many doors do you plan on replacing? What type is your home? This can range from the architectural style to the number of stories. What year was your house built? Do you prefer a certain type of material for your entry door? Even if you have no preference, take the time to research the most common materials, like wood, fiberglass and steel, to understand the differences and make a more informed decision when the time comes.
Questions to Ask During an In-Home Consultation
You may have questions of your own for the installer, but these questions should cover the basics of what you need to know and help you build a better foundation of knowledge.
How long has your company been in business?
After finalizing my order, how long until installation day?
How long do you estimate the installation to take?
Do you finish the interiors after installation?
How do I know I can trust the installers you send into my home?
Do you have any recent projects I can see?
What happens if I run into an issue after the products are installed?
Why should I choose your company?
What discounts or financing offers can you offer right now?
The goal of the conversation should be to gauge the knowledge and experience of the installer, get a better sense of the scope of the work, establish a rough timeline and determine cost. Just as you would research your style options before purchasing a door, you should carefully research potential installers before entrusting them with your new or replacement entry door.
Now you're prepared and ready to find a professional installer who can make your dream door a reality and give your home the warm and inviting entryway it deserves.
Entry Door Features & Options
Explore What Pella Has to Offer